Flood at Lucky: Why Renter's Insurance in Madison, WI is Important
It's not a story we're proud to tell, but it does provide a perfect example of why renter's insurance in Madison, WI is so important.
Flashback to Halloween, 2009. One of our residents in our Lucky Apartment building decides it would be fun to hang a Halloween costume from a sprinkler head. You know, spook everyone who stopped by with the ghostly apparition hanging from the ceiling.
He did scare a lot of people. But it wasn't the ghostly apparition that did it. It was the tsunami he unleashed that sent people scrambling.
As he was tinkering with the sprinkler (Note: DO NOT tinker with fire sprinklers), the poor sap set it off. Now bear in mind these sprinklers are not the lawn-watering variety. They're designed to crank out a lot of water in a short amount of time.
True to their nature, the Lucky sprinkler gushed. It took all of fifteen minutes for water to flood from this tenant's room, down five floors, and effectively cause damage to sixteen apartments.
Water streamed through bathroom vents from floor to floor, leaving up to four to six inches of standing water on every floor, and not your standard drinking water. Sprinkler water is vile stuff. Nasty. Stagnant. Truly scary.
Needless to say, for this tenant and the staff of Lucky, Halloween 2009 is not a cherished memory.
But it is a perfect example of why Renter's Insurance is so important. You see, while Steve Brown Apartments is insured for the structure, we do not provide coverage for any damages that occur as a result of actions taken by a tenant. That includes personal property damage.
This particular tenant was thus on the hook for $85,000 in damages.
Yee-ouch.
This is not an ad for Renter's Insurance
Before you read another word, please note that this is not an advertisement for renter's insurance.
This post is part of the objective of Smarter Renter: We want to help you make smart choices as a renter. We've seen people without renter's insurance get into serious financial trouble, time and time again. Who really has the cash flow to deal with $85,000 worth of damage?
We don't get paid to provide this information to you. We don't get a commission from any agent.
We just want you to know how you can protect yourself from certain perils when you rent someone else's property. Renter's insurance can do that, in a variety of different ways. Renter's insurance will:
Protect you from lawsuits from fellow tenants. You may not only have to cover losses to incur from property damage, but you are liable to be sued if someone is hurt due to your negligence.
Protect you from lawsuits from a landlord. A landlord may even be forced to sue to cover claims against them, or collect reimbursement for money they had to pay out as a result of your actions.
Negotiate and pay settlements to other parties. Your insurance company can handle the negotiations and settlements, which is good news, even for those of you in law school.
Reimburse you for your own property losses. While our poor resident above was sweating out his $85 K bill, he was also trying to figure out how to pay for the replacement costs of his own stuff.
Provide you with shelter. If your apartment winds up trashed, renter's insurance will cover you with living expenses as you search for a new pad and wait for issues to be resolved.
Provide you with liability coverage. Let's say your dog bites someone, or you pet boa constrictor causes bodily harm to an unsuspecting neighbor. Renter's insurance will cover you in the event there are physical or psychological injuries.
Protect you from thievin' varmits. If you get robbed (and that has happened from time to time on college campuses), renter's insurance can pay your replacement costs.
Okay, you're probably starting to understand that even if you don't flood out four apartment floors, there are plenty of reasons why you need renter's insurance. Let's get to the big question: How much does it cost?
Cheaper than a Starbucks
You're used to paying outrageous costs for tuition, books, movies, etc. The good news is that renter's insurance is very affordable. Why? Because renter's insurance doesn't cover the dwelling, only the contents inside it.
However, the devil always is in the details. Renter's Insurance costs can run from about $100 to $500 per year, but most coverage is in the $100 – 200 range.
What causes the variations? As you might have guessed, it depends on:
How much coverage you carry (are you insuring big screen TVs? Porsche sports cars?)
Where you live
How much you choose for a deductible
What kinds of additional coverage you have (do you have auto insurance too?)
What your credit score looks like
Those are just a few at the top of the figures.
According to rentersinsurance.com, you'll find price ranges in the following ballparks:
| | |
| --- | --- |
| Minimum Policy ($12,000 personal property, $500 deductible, $100,000 liability coverage) | $100 per year |
| Average Policy ($25,000, $500 deductible, $100,000 liability) | $120 – $180 |
| More Comprehensive Coverage (Higher coverage amounts) | $500 – $1,000 |
The amount you choose will ultimately be decided by two factors: How much your property is worth and how much you're worth. For example, the more expensive items you have, naturally the more coverage you'll want.
But you also need to consider your other assets. Remember, you're liable for damages, and attorneys for other insurance companies will try and get as much money from you as possible. So thing about what you're truly worth.
Have you racked up some serious cash doing a little daytrading between classes? If so, you might opt for a higher liability coverage to avoid any personal lawsuit troubles. Yes, for most college students and first-time renters, this is the exception and not the norm, but you should ask an agent about it.
Speaking of agents, before you start searching for one to provide you with some price quotes, you'll want to do an inventory of what you want to protect. Again, the fine folks at rentersinsurance.com mention the following items:
Clothing and soft goods: Document all those shirts, shoes, comforters, towels, rugs, etc.
Electronics: Computers, stereos, coffee makers – basically anything that plugs into a wall, you should include.
Furniture and kitchen ware: If you can sit on it, hang it from a wall, cook with it or on it; include it. Don't forget lamps, but do forget that disgusting couch you bought at Goodwill that's sitting on the porch.
Miscellaneous: Take a walk through the house, and include books, bikes and anything you would take with you on a move. It's all fair game.
A couple of notes about this list: Make sure you find a place to store it off-site. We recommend storing it in the cloud, as you never know whose house could burn down, and things like Google docs have ridiculous amounts of space.
The better your list, the more effective your coverage will be. And don't worry about the overall value of your goods being too high. Any additional $10,000 worth of coverage will move your yearly costs only a few dollars.
Shop Till the Price Drops
Now that you're armed with your net value list, you should shop for agents. You'll probably want to start by calling some local agents. You can choose from agents affiliated with big companies like Allstate or American Family Insurance, or you can select independent agents who will do the searching for you.
You can also choose online insurance companies, such as Geico, Allstate and Farmers Insurance.
When you have a few quotes in hand, then it's time to compare and contrast the policies. Take a look at any discounts, and do a little research on the agent and the company you're considering. It doesn't hurt to ask roommates or family friends for referrals: They tend to provide solid professionals who know what they're doing.
Will this take a lot of time?
As with anything, it's up to you how much time and effort you put into it. Compiling a list of valued items will likely consume the lion's share of the time, but that's a good item to have around for many reasons.
Once you've done the work, however, you'll have the peace of mind knowing that you're safe in the event of theft, fires, or the occasional flooding of four floors. And unless you've got $85,000 in your bank account, it's something we'd whole-heartedly recommend.
PS – One final note: A growing trend among rental agencies is to require renter's to carry this type of insurance. At Steve Brown Apartments, we require at least $100,000 of personal liability coverage and need proof of insurance coverage within 7 days of any lease start date. Come prepared on move-in day and it'll be all done and you'll be worry-free!
Download a comprehensive budget worksheet and get the ultimate first apartment checklist with our free First-Time Renters Guide. Click on the button below!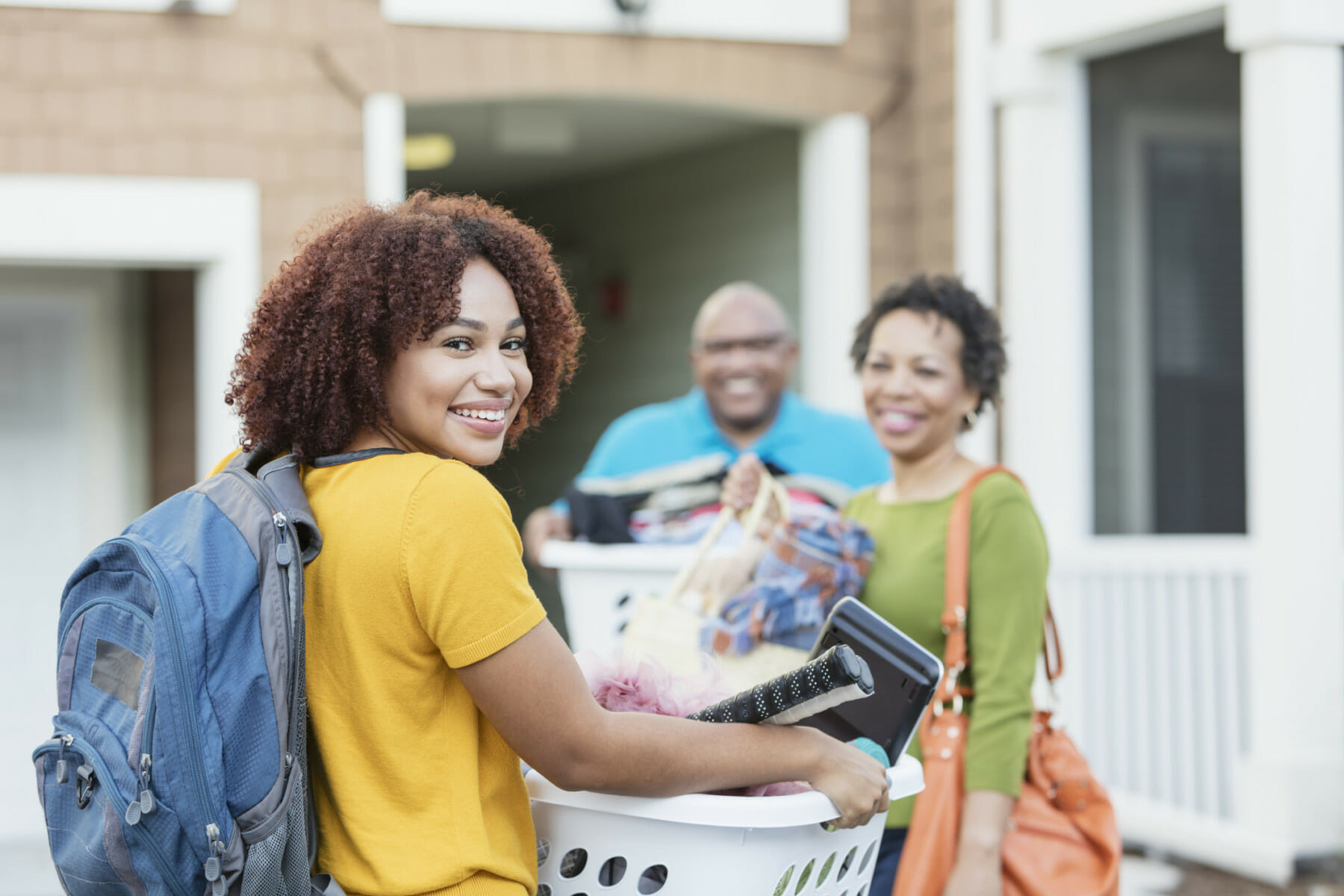 Download our First Time Renters Guide
Everything you need to know when searching for your first apartment.
Get it now