12 Anal-Retentive Tips For Cleaning an Apartment When Moving Out
We're going to be blogging a lot about moving out in the coming weeks, including touching on one of the all-time most dreaded tasks that any renter could possibly face: Cleaning. This post will provide you with tips on how to clean your Madison apartment, and keep your security deposit intact.
Please note we've peppered in some truly inspiring Awesome Anal-Retentive Cleaning Tips!
Staples and nails need to go bye-bye. All those fantastic posters and great hanging plants you put up over the course of the year? Looked great and very cool and all that, but the staples and nails gotta go.
Scuff marks too (yes, we're serious.) Take a wet cloth and clean off scuff marks on the wall. Too many scuff marks = a new coat of paint, and you really don't want to pay for that.
Awesome Anal-Retentive Cleaning Tip: A Magic Eraser works nicely on scuff marks, but be careful that it doesn't take off paint when you use it.
Clean out the fridge (yech). Okay, we know you're going to be frightened of some of the food that's green and lurking in the back of the fridge. But it needs to go. Not only that, but all the gunk and stuff that's been dribbled or dropped onto the shelves or bins. Pull everything out, scrub it up, and put back together again. (And throw away that green stuff lurking in the back).
Awesome Anal-Retentive Cleaning Tips: Vinegar works as a nice cleaning agent if you want to avoid chemicals. Just add a little bit to your water.
Cabinets need to be emptied, cabinets need to be cleaned. Be sure you're not leaving behind any presents for us. And wiping out the cabinets with a wet cloth would sure be nice. We could tell you stories of the spills we've had to clean up.
Oven cleaning (double yech). If you ever turned that sucker on, you'll probably need to clean up all the stuff that's been dropped and burned to a cinder on the oven floor. Oven cleaner generally works best, and be sure to follow all the directions on the can.
Sinks need a scrubbing. If you're working with stainless steel or porcelain, a nice cleanser will take off all the hard water deposits.
Awesome Anal-Retentive Cleaning Tip: An old toothbrush is great for cleaning nooks and crannies. Your roommate's will do.
Light fixtures (including the bugs). You should wipe off the light fixtures, and if possible, unscrew the covers and dump out any dead bugs that have accumulated. They're high in protein, so if your fridge is empty, they might make for a nice snack.
Take a music break. Look, cleaning is hard work. Play this song during the process. This tune is entitled Cleaning Apartment. It's by Clint Mansell, from the Requiem for a Dream Soundtrack, and it will definitely inspire you to clean.
Clean out the bathroom. (Infinite yech) If you happen to draw the short straw, be sure to clean the sink, tub, toilet and shower. Try and use a cleanser on the sinks, and ye olde toilet bowl cleaner for the throne. Mirrors should also be cleaned for spit flecks and other such nastiness.
Awesome Anal-Retentive Cleaning Tip: Fill up the tub with water and pour in a bunch of vinegar. Let it sit for twenty minutes to an hour. Come back and most of the gunk should be gone. Or at least the barnacles will now be easy to pry free.
Vacuum, sweep and scrub the deck. Take your time to thoroughly clean the floors. Be on the lookout for any spills, and yes, you'll probably have to make like Cinderella and get down there and scrub. Hey, no one said life would be easy.
Empty garbage, sweep outside. Yep, that entryway part of the property. Don't vacuum the lawn, but do take a quick sweep across the entryway, if you have one.
Photograph your work. If you do a whiz bang job, you'll want to document the moment. Do this so you'll not only have a fond memory of your apartment, but also so you can to show it to your landlord in the event you find an erroneous charge on your security deposit.
Another method is to be proactive and follow the approach in this great article, "How to Clean Your House in 20 minutes a Day for 30 Days." Might be a little too regimented for some of you, but it will sure make the clean-up list far less daunting when it's time to move out.
Here's an actual Cleaning Checklist that we provide for our residents.
Download a comprehensive budget worksheet and get the ultimate first apartment checklist with our free First-Time Renters Guide. Click on the button below!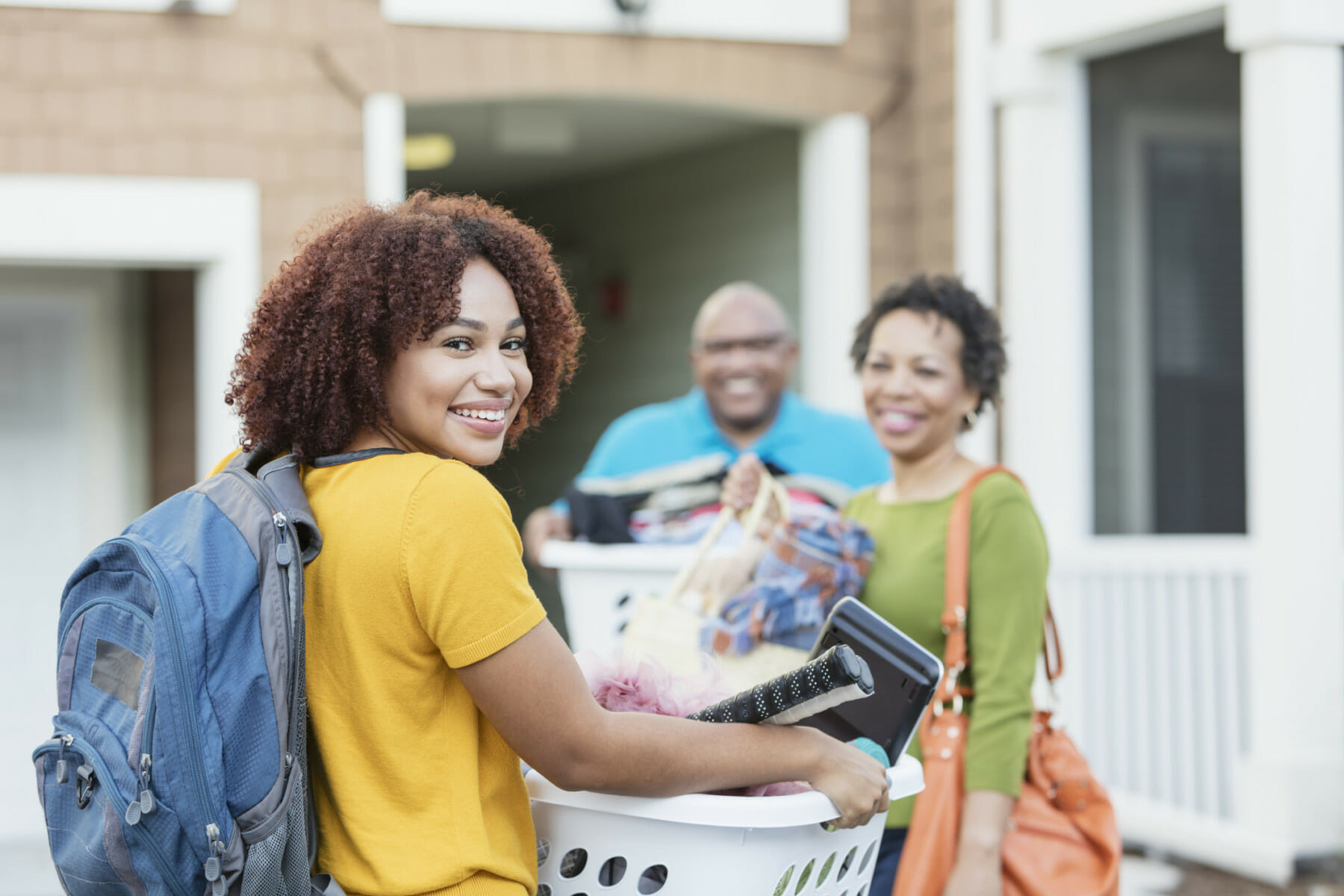 Download our First Time Renters Guide
Everything you need to know when searching for your first apartment.
Get it now