10 Things to Include in a Renter's Care Package
Your child is renting his or her first apartment. This is both a proud moment, and a somewhat scary-one for parents. It's a tough time to think pragmatically, but that's just what your child needs. They're so excited about renting, that they don't understand what they'll need, or when they'll need it. That's why they'll appreciate a Renter's Care package. Make sure it includes:
1. School supplies. You may get some eye rolls with this, but everyone needs pencil, paper, pens, and highlighters. As more and more work is done on computers, these items tend to be forgotten, but they definitely will come in handy.
2. Personal toiletries. Hey, you can never have enough toilet paper, toothpaste and other types of toiletries. Most first-time renters are on a tight budget, so these types of items are highly appreciated.
3. Kitchen items. Dish soap, dish towels, a new set of plates and silverware – most first-time renters don't have a clue what it takes to stock a kitchen. To stock your student's, go through your own supplies and pull out some of the used items. It's a great excuse to go shopping for some really nice stuff to restock your own kitchen!
4. Towels. From hand towels to bath towels, most first-time renters are woefully understocked in this department. Give them something nice, so they won't try and abscond something from the campus gym.
5. Rolls of quarters. If your student's apartment doesn't have laundry, a great gift is a roll of quarters for use at the old laundromat. You could also load up the laundry card for a property's laundry room. If your child does have laundry, stock them up on laundry detergent and fabric softener.
6. Gift card for tech support. It's almost guaranteed that at some point, your student's laptop or desktop will need some computer repair. Most likely, the problem will occur when it's tough to get it to the computer repair shop you typically use, so buy them a gift card for a repair service near their school. Large chains like BestBuy have computer repair services, which may be a safe bet.<
7. Food items. You know nutrition is a toughie once students are on their own. The natural inclination is going to be to chow down on carb-heavy, non-substantive food items. You can promote some nutritious alternatives by stocking them up on nuts, protein bars, and whole grain pasta. Make a run to the natural foods section of your grocery store – you'll find plenty of healthy snacks.
8. Coffee or tea (and a coffee maker too). While it's fun to hit the local cafe, those specialty coffee drinks can get ridiculously expensive. Give them some coffee or tea for the homefront – maybe they'll spend some time there studying!
9. Gift cards to local restaurants. There will be times when you can't get a good home-cooked meal to the kids, so why not give them some gift cards to a local restaurant? It's preferable to straight-up cash, because you'll know it's most likely going to be used for food. You may want to opt for restaurants that don't serve alcohol – just in case!
10. Gas card. Hey, maybe they'll fill up the tank for a ride home to visit mom and dad? Or they can use it to get a ride from a classmate at school. (You can only hope, right?)
Practical and sure to be used, these care package ideas will make for the perfect apartment-warming gift.
Download a comprehensive budget worksheet and get the ultimate first apartment checklist with our free First-Time Renters Guide. Click on the button below!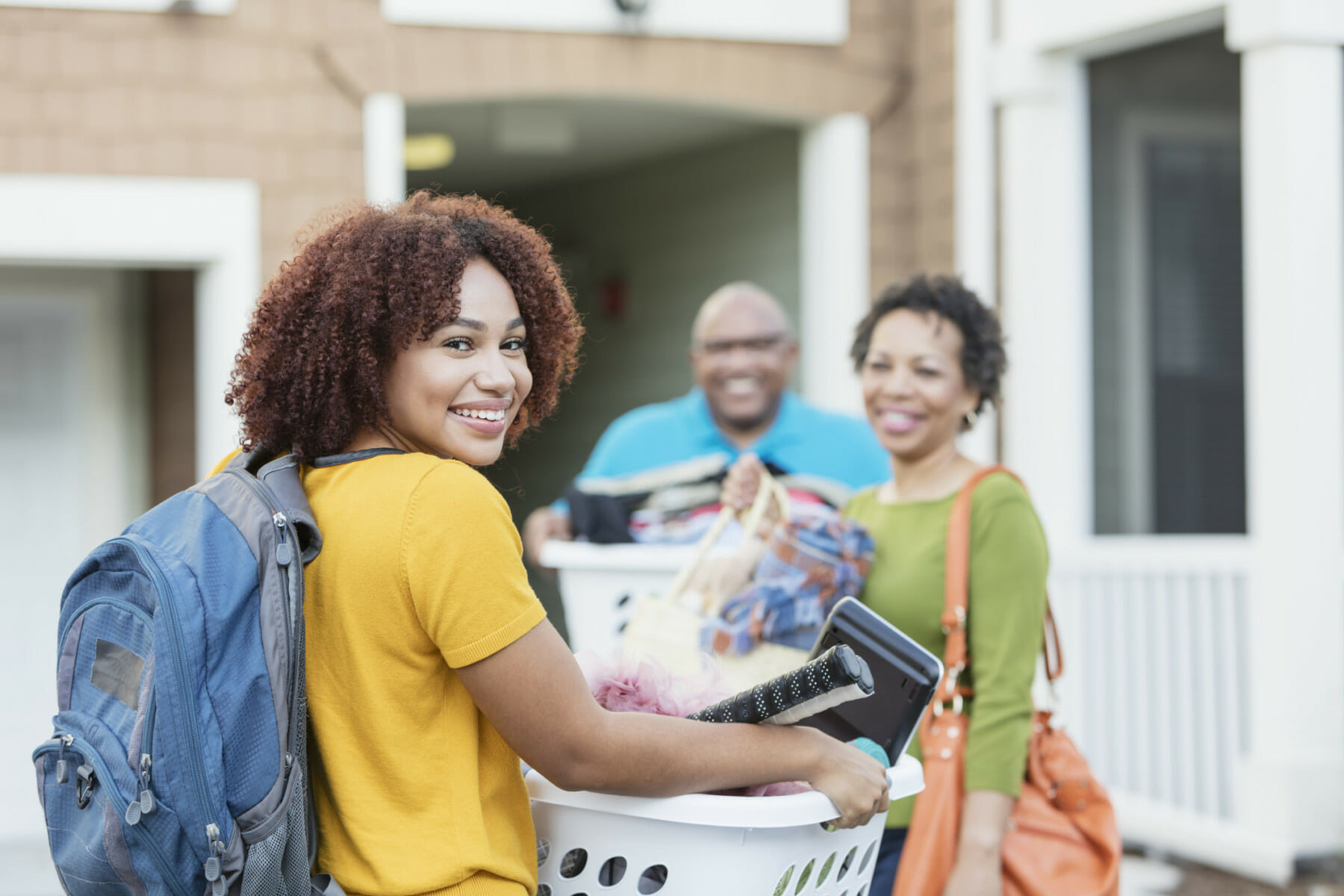 Download our First Time Renters Guide
Everything you need to know when searching for your first apartment.
Get it now
Published on Jun 22 2012
Last Updated on Aug 26 2022