Six Pieces of First Apartment Advice for Parents
Move-in day is an exciting day for UW students, but it can be a depressing, difficult day for parents. While you're excited to have your child open a new chapter is his or her life, you're going to be going through a difficult transition. Here are six pieces of first apartment advice for parents: 1. Your role will be evolving to more of a coach. You'll always be a parent, without a doubt. But as your child gains more independence, you'll find yourself in more of a coaching role. Your instinct will be to try and swoop in and handle everything, but that will only set them back. Coach them through the tough situations, so they can handle it when you're not there. 2. Your child is not focused on the size of their closets. You may think the size of the closet is too small or the kitchen is a little cramped, but these types of details may not matter to your child. They're more excited about being with their friends and living in their own space. Try not to dwell on anything that bothers you about the physical apartment. Your student chose it and most likely toured it. They may love the place and your focusing on any negatives may take away from their big day. 3. Don't over-react to the new roommate. On occasion, we've seen cases of one roommate moving in before the other, and then throwing a big party. When mom and dad arrive the next day, the apartment is trashed from a night of festivities. As hard as this will be, try not to jump to conclusions. The UW is prestigious school, and anyone who is attending it is here to succeed. During move-in week, students don't have much to do other than to socialize, and some are going to take advantage of their newfound freedom and independence. Try to let it ride. Obviously if it continues, then you'll have a problem. For the time being, try to not blow the situation out of control. 4. Make some plans for after you drop off your child. Plan on not knowing exactly how you're going to feel after dropping off a child at the new apartment. Try and make some plans for yourself. Go out for a nice dinner or have a glass of wine. Make sure you're doing something other than sitting outside your child's apartment and staring longingly at the window. 5. Expect to sweat. Move-in is always tough in Madison. It's mid-August, it's hot, and lifting boxes is hard work. Consider getting a hotel in town so you can relax and cool off after the move. 6. Let your child make the visitor checklist. Don't assume Grandma or a little brother will be immediately welcomed at your student's new apartment. Respect their space, and ask them when the time is right for the rest of the family to stop by and say hello. Moving in to that new apartment will be exciting for your student, but possibly tough for you. Keep these tips in mind and you'll make a smooth transition. Get the ultimate first apartment checklist with our free First-Time Renters Guide. Click on the button below!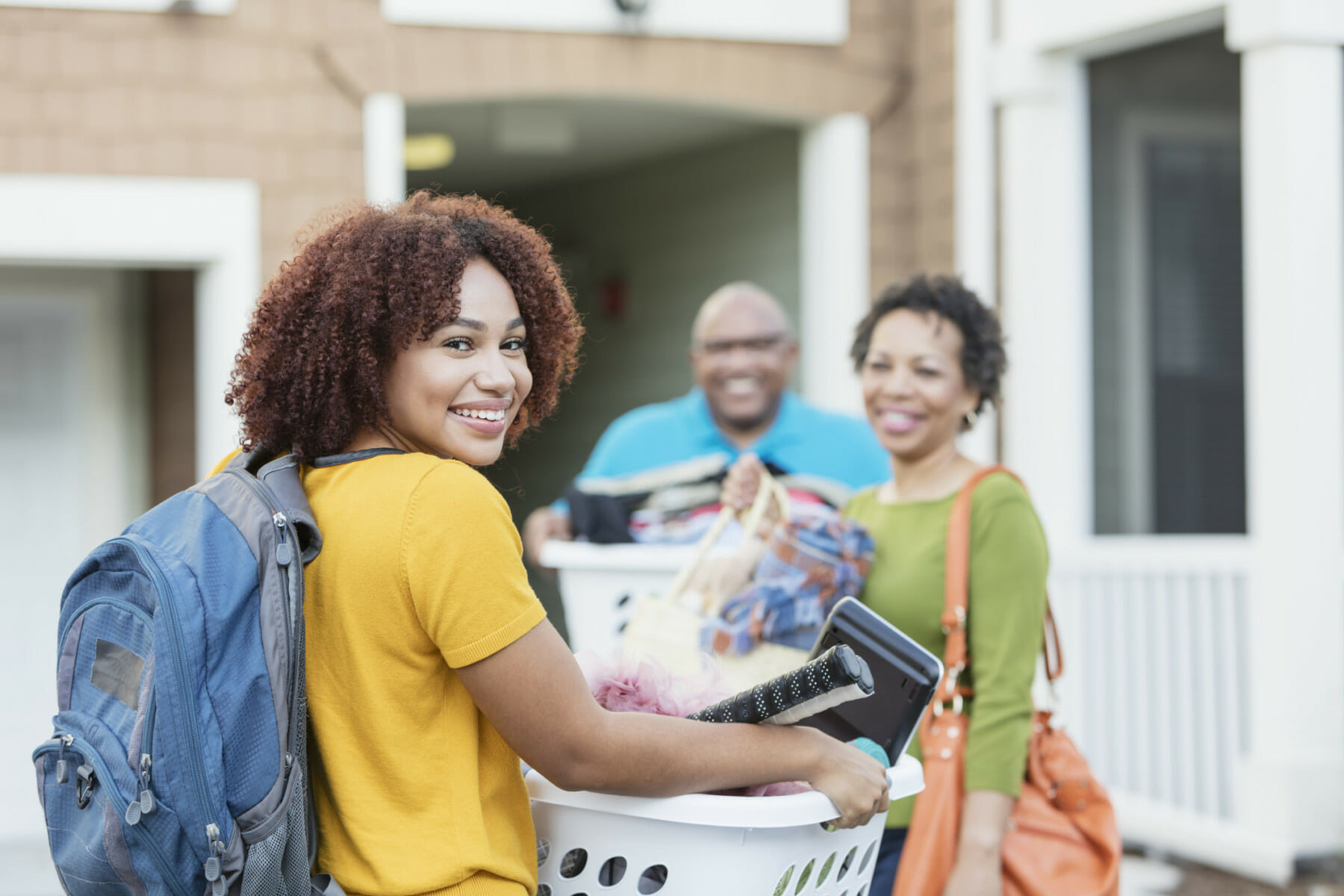 Download our First Time Renters Guide
Everything you need to know when searching for your first apartment.
Get it now