Why this UW-Madison Freshman Chose an Apartment Over the Dorms
Stephanie Seymour was overwhelmed. She had just chosen the UW-Madison as her college and now, as an incoming freshman, she had a lot of decisions to make, including where to live. Looking back on that moment, she's thankful she didn't make a knee-jerk decision and instead considered all her options.
"One day I just really had to sit down and think about where I wanted to live," Stephanie says.
On a campus as big as UW-Madison, there can be lots of options. Stephanie notes this can be a blessing and a curse, which is why thinking carefully about what you want your living experience to be like is so important.
For Stephanie, her priority was to have a place where she could retreat to study if the social scene got a little overwhelming. "I wanted alone time when I needed it," she says.
Yet as diligent a student as Stephanie planned on being, she also wanted to have a healthy social life. The thought of holing up in a single apartment made the prospect of finding new friends seem a bit daunting. "I was really nervous about meeting new people," Stephanie recalls.
She began her search for student housing by reviewing all the flyers and mailers she'd received about different housing options. She decided to look into non-UW dorm options and talked to a resident who lived at Lucky 101, a private residence hall program designed specifically for incoming freshmen.
"He gave it a great review," Stephanie says. "I started to think, 'This could be my apartment!'"
A Social Scene, and Friends Too
Stephanie had made visits to friends' dorms at various colleges in the past, and she knew what the dorm experience would be like. The tighter quarters and lack of privacy stuck with her as she looked into Lucky 101. "I realized I could experience dorm life with the comfort of my own bathroom and kitchen," she says.
She chose Lucky and, right away, struck up friendships. She met her next-door neighbors at the many Lucky 101 socials; neighbors who today she calls her "best friends."
Stephanie has enjoyed the spaciousness of her apartment. "When I get together with friends, we do it at my apartment," she says.
Having the extra room has allowed her to decorate, and she's taken full advantage of the opportunity. "I love having so much space to customize," Stephanie remarks. "When people come into to my room, they are amazed. They say, 'You have so much stuff!'"
Lucky provides Stephanie with more control over when she has fun and when she studies. Unlike sharing dorm space, she makes the decision over who comes in and out of her room. "I get a lot more privacy," she notes.
"The first week is fun in the dorms but once the honeymoon fades, it can be difficult," Stephanie says. "The dorms are so much in your face all the time." She notes that even in Lucky's shared apartments, people with double rooms can always retreat to their own personal space when they need it.
Cooking on Her Own, or Eating Out With Friends
With her own kitchen, Stephanie is doing more cooking than she thought she would, but believes that's a good thing. She likes the option of preparing something when she wants, but also likes having the flexibility to walk over to Gordon Commons (one of the University's dining halls) to eat with friends.
Lucky's location also provides easy access to State Street food options. "I'm at the center of the world," she said.
Stephanie's advice to freshmen is simple. "Choosing housing can be a little bit overwhelming," she said. "But take the time and consider all your options."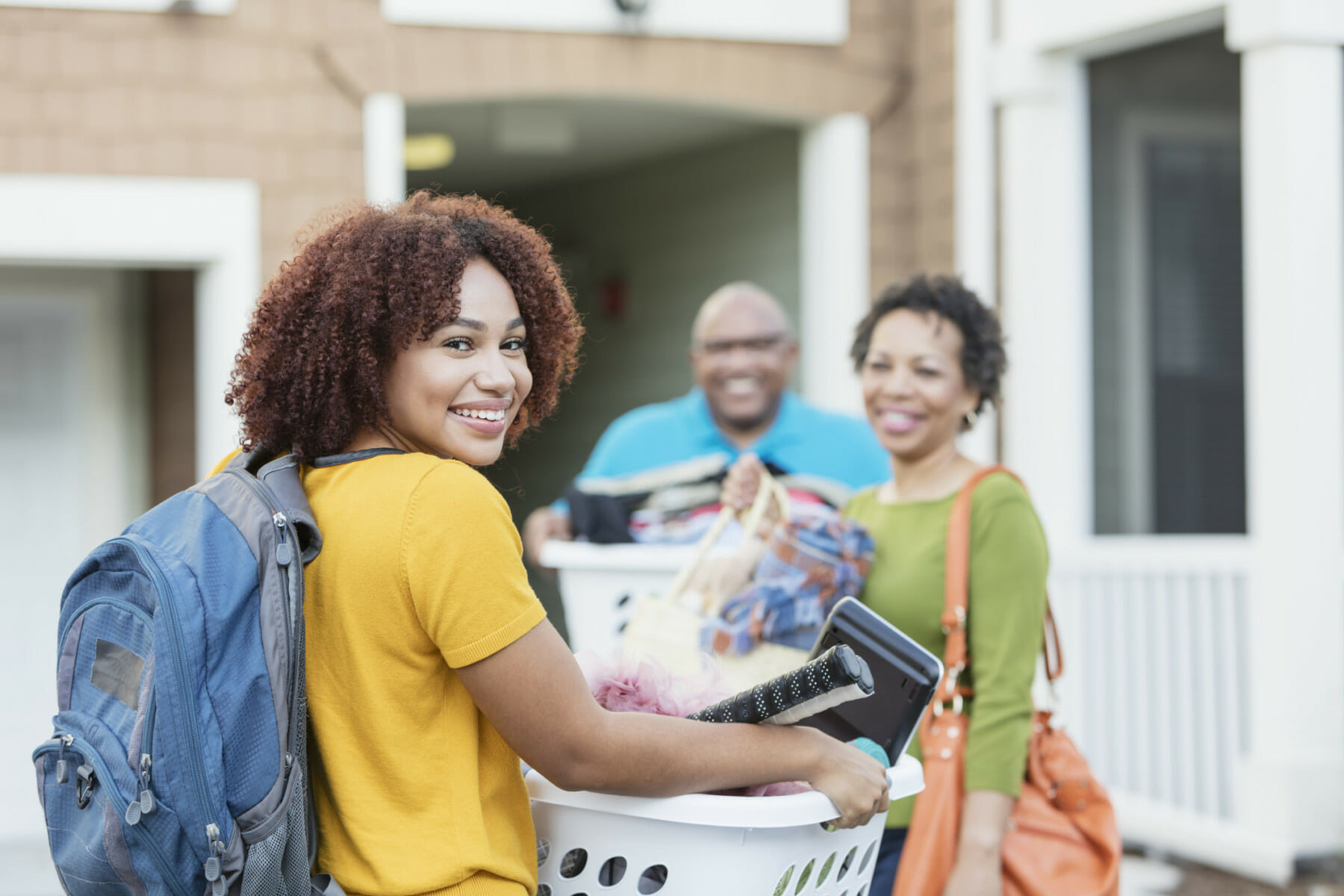 Download our First Time Renters Guide
Everything you need to know when searching for your first apartment.
Get it now
Published on May 14 2014
Last Updated on Aug 26 2022