11 Ways to Move In Without Losing your Mind
You would be hard pressed to find a day that Mad Town is madder than on student move-in day. Here are some tips from a couple of student employees at Steve Brown Apartments (SBA) to help make moving into your new apartment a bit easier.
It's a Mad Mad Mad Mad Day
If you feel the ground begin to tremble on August 15th, rest assured that it is probably not an earthquake. However, upon viewing the throngs of thousands descending upon the city for move-in day, an earthquake might be a welcome alternative.
There's no denying that moving day is one of the most hectic days of the year. But like all hectic things in life, you'll save your scalp a few hairs by planning ahead. Here are some suggestions:
1. If possible, move in early: Some property managers will allow you to move in early if you're willing to pay pro-rated rent for the extra days you'll be there. Megan Whip, a Resident Relations Coordinator with SBA, said that if your apartment allows this, you should take advantage of it.
In her experience, the cost is totally worth getting to move in without all the traffic. Plus, you'll get to move in before anyone else making you the "chill" move-in day hipster.
2. Call ahead for parking information: "I strongly suggest calling ahead of time to see where you should park on move in day," said Stephanie Richter, another Resident Relations Coordinator with SBA. "It's best to get an idea if you have to find it on the streets yourself or if you'll be allowed temporary parking in the apartment community's parking lot."
Megan added that when landlords can, they'll allow temporary move in parking but that it usually comes with provisions. If this is the case, respect the allotted time limit so your neighbors have access too!
3. Aim for one or two trips: It's like a war zone out there – the less time spent in the trenches the higher your chance of survival. Pack efficiently and transport everything to your new place in one trip if possible to avoid having to maneuver through traffic multiple times.
Megan noted that those who don't move in in one day tend to get lazy, resulting in a month long debacle of moving out or in.
Planes, trains and automobiles
If Superman actually existed, he might become the wealthiest person on the planet by assisting people with their move-in kryptonite: transportation. Sadly, he does not exist to our knowledge, but here a couple of other super methods you can use:
A friend's van or truck: We'll start with the cheapest, and perhaps most obvious, method. Before you're quick to phone up U-Haul, check with some friends to see if anyone has a van or truck you could borrow for the day.
Pay them in beer if that's what it takes; it'll still be cheaper than paying for a service!
U-Haul: This is the classic move-out/in transportation service. Megan cautioned that you'll want to make reservations a good two months ahead of time, but between the affordable rates and convenience, they are totally worth it.
Lazybones: This small business started by a couple of UW-Madison grads is a great option for storing your stuff over the summer and then having it delivered to your new home. All you need to do is pack up your belongings. Lazybones will pick it up, store it and bring it to your new location at move-in time.
Madison Movers: You might be the kind of person who doesn't mind paying a little extra. You just want someone to get your stuff out of your old apartment and into your new one.
If that's the case, Madison Movers might be your golden ticket. They are a full-service transportation company, helping you plan your move, box your things and then bring them to your new home.
Keep your sanity by remembering a few things
Clothes? Check. Couches? Check. TV? Duh.
Most people have no trouble remembering the big stuff – it's the meat and potatoes of your new apartment. But what's meat and potatoes without the salt?
We know it's easy to forget some of the less exciting items for your apartment, but make moving a whole lot easier by adding these forgettable, but crucial, items and obligations to your list:
1. Cleaning supplies: You like to hope you'll have a freshly cleaned apartment waiting for you (like you will with SBA), but the truth is you won't really know the state of your new apartment until you move in.
This is why cleaning supplies are of the utmost importance. Quick reminder from Stephanie, "Make sure you document before you clean!" That way you can mark down any pre-existing blemishes to give your property management.
2. Hangers: You use them every day, but how much do you really notice them? You will when you realize you have nothing on which to hang your clothes.
3. Tools: Hopefully it's not the case, but you might occasionally come across a loose screw or problem that's easily fixed with a screwdriver or wrench. Of course, for bigger fixes you should talk to your property manager.
For the smaller stuff, here's an opportunity to feel like the handy(wo)man you've always wanted to be.
4. Check In Forms: Megan said this is one of the most important things that tenants forget. Check in forms are crucial for documenting the state of your apartment upon move-in. Fill it out with as in as much detail as possible. What seems tedious now could later mean straight cash money.
We know it's a lot to take in especially if you're a newbie to the move-in game. Hopefully these ten tips make things easier. Check out some of our other posts on moving in and moving out for more ideas.
One thing Stephanie and Megan both said is that there is more to moving in or out than stress.
"Whether you are moving in or out, it's a big life change for you!" Megan said. "When things get stressful, just put them in perspective. The stress will blow over in a few hours and everything will be just fine."
Play some music, order some pizza and create an apartment you'll be excited to show off!
Make sure your apartment is organized from day one by checking out our Pinterest Board for some great tips:
Follow Steve Brown Apartments's board Organizing Your Apartment on Pinterest.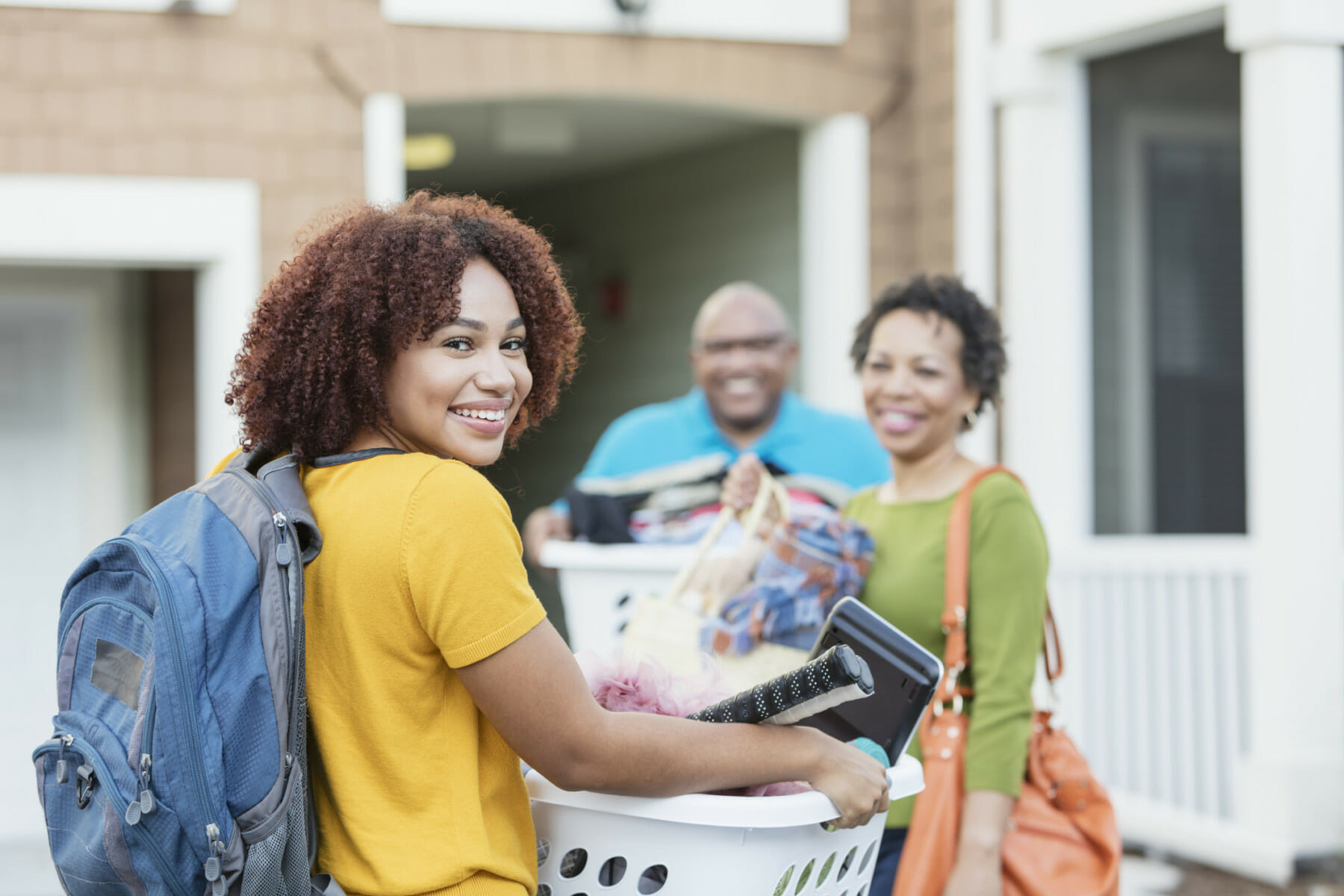 Download our First Time Renters Guide
Everything you need to know when searching for your first apartment.
Get it now
Published on Jul 16 2014
Last Updated on Aug 26 2022