Signing Up For Internet Service: What Renters Should Know
Internet service is one of those things everyone relies on but is rather difficult to understand. With a general overview of how IT services works — especially from a renter's perspective — you can choose the right Internet service option.
In this post, we'll pull from many online articles to give you a solid overview of the subject. We'll also be tapping the expertise of Missy Kellor of TDS Telecom for some local insights for our Madison area renters.
Criteria for Choosing Your Internet Service
Internet service is the actual Internet access you receive from an Internet Service Provider (ISP). Missy Kellor notes that the Internet service you choose should depend on your goals.
"The speed you choose will depend on what you want to do with the Internet." Missy Kellor, TDS Telecom
Key items to consider:
What functionality do you want? Checking email, surfing the Internet, downloading files, etc.
How many devices will you be connecting to the Internet? Computers, tablets, phones, gaming consoles.
How many users will be on your network?
Here's a great video that spells this out, as well as some other key points we'll be covering in this post:
What types of Internet service connections can you get?
Once you have your goals in line, you'll want to investigate the types of Internet connections available to you. These connections will dictate the bandwidth of your service. The options currently include:
Dial-up: Used over the phone line, dial-up is the slowest connection available. Should be used only if you're only connecting to the Internet just to check email and Facebook.
Cable: Provided by TV providers, shared by multiple users. Tends to slow down during periods of heavy usage.
DSL: Provided over phone lines like dial-up, but at much faster speeds (it's considered broadband.) Less expensive than other broad-band options, but tends to be slower, especially in rural areas.
Fiber optic: Considered the fastest broadband option, but only available in areas that have installed the lines.
Satellite: Provides the widest coverage area, but the slowest of the broadband options.
Now that you have a general understand of the different types of connections, let's get to what truly matters: Your bandwidth.
How is Internet speed measured?
Internet speed is based on bandwidth. It's the number of data bits per second that travels from your device to the Internet (upload) and from the Internet (download) along that bandwidth.
If you're going to evaluate the speed, you have to understand the abbreviations that are used to describe the service. This comes courtesy of Plugthingsin.com:
Kbps – Kilobits per second (used when talking about dialup – 56k, for example – and low-speed DSL)
Mbps – Megabits per second
Gbps – Gigabits per second
What is the difference between bits and bytes?
You may be confused between the terms "Megabytes" and "Megabits." A Megabyte is used to describe file size, and a Megabit is used to describe Internet speed. Here's how these two work together, courtesy of OpenSignal:
People often assume that a download speed of 1 Megabit per second (1 Mbps) will allow them to download a 1 Megabyte file in one second. This is not the case, a Megabit is 1/8 as big as a Megabyte, meaning that to download a 1MB file in 1 second you would need a connection of 8Mbps. The difference between a Gigabyte (GB) and a Gigabit (Gb) is the same, with a Gigabyte being 8 times larger than a Gigabit.
Check out this video if you really want to deep dive into the discussion:
What are the available speeds in Madison?
The speed requirements and offerings are constantly changing, as the demand increases.
According to Missy Kellor, "We've seen the demand for Internet bandwidth just continue to grow. We're seeing huge increases every year as people do more and more online." She notes that ISPs are in race to future-proof their service, which is why TDS is using fiber-optics.
Typically, Internet packages start out around 5 Mbps and go up to 1 Gbps. Most residential –- including renter services – are around 5-30 Mbps. At Steve Brown Apartments we do have a few properties that have speeds at 50 or 100 Mbps.
How fast is my Internet?
That's the next question, whether you currently have Internet service or you want to measure it after you've got the service up and running.
There are a few websites that will test your Internet speed. These sites may vary in terms of their measurements (and it may not precisely align with your ISP's measurement), but it gives you a ballpark idea.
Note: These websites include advertising, and we can't vouch for the actual speeds they display. Again, you'll want to check with your ISP for the most accurate speed.
What is an Internet Service Provider?
Choose the right Internet service provider is the next big piece of the puzzle.
We define an Internet service provider (ISP) as an organization that provides access to the Internet at a cost. Typically access comes in a variety of different formats, such as the connection types we described above.
An ISP may also offer Internet-related services, such as web hosting and email.
Choosing the right ISP is based first and foremost on your location, and your options for provider may be limited based on your ZIP code: Municipalities usually negotiate with telecom companies to see who will provide service to your area.
This great post on choosing ISPs from Melanie Pinola (@melaniepinola) of LifeHacker (@lifehacker) offers a number of links for rating providers in the Madison area.
How Should You Evaluate Your Internet Service beyond Speed?
The speed is just one part of the service. You also want to evaluate a provider based on a number of other criteria, including:
Reliability and Support: Does your ISP have a solid record of uptime? Check out online reviews to see how your provider fares. As LifeHacker noted, JD Power's has a Residential Internet Service Provider Ratings that might be worth a look.
Location: Does your city or town allow for a number of different providers? You may not have many options, as municipalities tend to dictate who can provide service in the area. (At least this applies to cable. You may have the option for satellite, if your property owners allows for the dish installation.)
Costs, Service Terms: Do you have a number of pricing options to choose from? Start with your goals and then find the package that's right for you. Discounts are great, and many providers offer them as incentives to sign-up, but be sure to dig into the fine print so you know exactly what you're getting into.
Safety and Security Measures: Does your provider offer any additional features to strengthen the security of your account? The security of your account is becoming more and more important as hackers grow in numbers and strength.
Six Special Internet (and Cable) Service Considerations for Renters
Everyone has their own Internet usages, especially renters. Missy Kellor of TDS Telecom had some important things to keep mind. Listen to her audio interview, and then check out her special renter tips below:
1. Lock down your router
As we mentioned, security is becoming increasingly important. Be sure your router is locked down (and that includes more than just being password-protected.) Here is a post on how to lock down your router.
2. Locate your router in the right place
Location, location, location. Put a router in the wrong place and it doesn't matter what kind of bandwidth you're paying for – your signal will suffer. Here's a great post on where to properly locate a router.
3. Think about a packaged bundle
You can get a screaming deal from an Internet service provider that bundles cable, Internet, and yes, even a landline. (A landline? Yes indeed, here's a post on why that might be more beneficial than you think.)
4. Pause Internet service if you travel
For those of you travelling abroad or moving out of Madison for a summer internship, your Internet provider can pause your service. Keep in mind that you need to return to the same apartment when you come back!
5. Think about duration of promotional rates
We touched on the allure of promotional rates above. These are great offers, providing you can fulfill the time element stipulated in the deal. Watch out for early termination fees, and think about where you'll really be in two years.
6. Look for your outlets
This applies more to your cable TV, but think about where you're going to put your TV. Many services require a set-top box and a spot to plug it in.
Expert tip: You may be able to get a wireless set-top box that only requires access to power, and if your provider offers an RF remote option, you can locate your set-top box just about anywhere (even in a closet!).
7. Think about what you really want for cable
If you're considering cable as part of the package, you should think through all the potential options. Ask yourself:
How many channels do you really want – and which ones should they be?
Do you want a DVR?
How many roommates should be able to access the DVR and on what devices?
Do you really want HDTV?
Identify What You Really Want, Then Shop
You've probably noticed a general theme throughout this post: Define what YOU want for service before you shop.
We've given you a good overview of how Internet services work (and a few tips on cable and landlines.) Now it's up to you to decide what works best for your situation.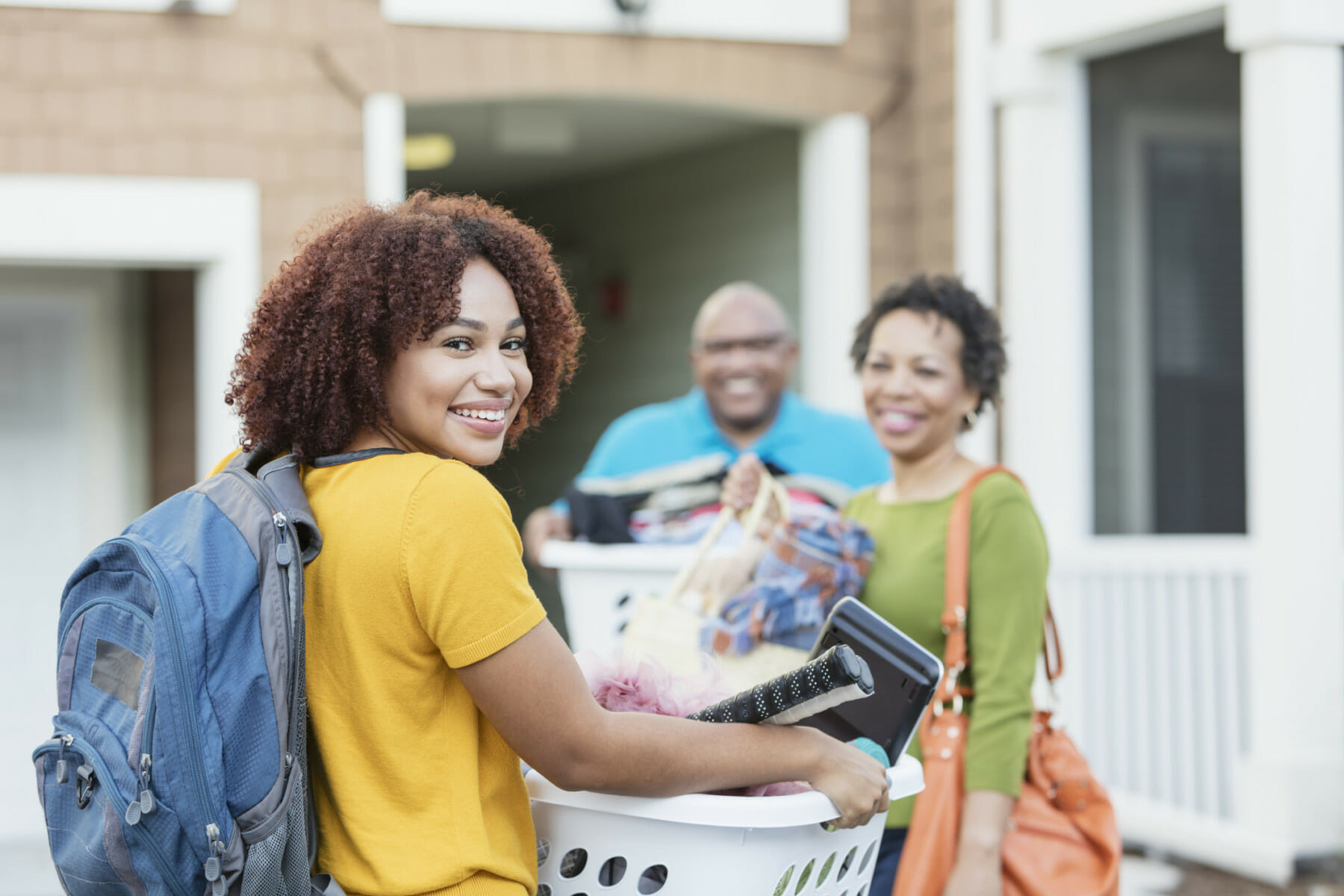 Download our First Time Renters Guide
Everything you need to know when searching for your first apartment.
Get it now
Published on Apr 27 2016
Last Updated on Aug 26 2022