Moving In Together: How to Make Romance and Renting Work
Thinking of moving in together? If you and your significant other have decided it's time to make the big move, we've put together a complete overview that will help you take the next step in a healthy and happy way.
Moving in with boyfriend or with girlfriend is a huuuuuuge step. It's not only a big commitment for your relationship emotionally, but moving in with a significant other also means a new set of financial and logistical issues.
Let's take an in-depth look at what lovers should look for before they leap.
Should we move in together?
Before we get to the details, let's really think about the big picture: At this stage in your relationship, is living with a boyfriend or girlfriend a good idea?
The fact that you are even asking the question is a good idea because you're at least setting yourself up for success. Consider this quote from Dr. Sabitha Pillai-Friedman (@profSabitha), an Assistant Professor in the Human Sexuality program in Widener University (via the Huffington Post):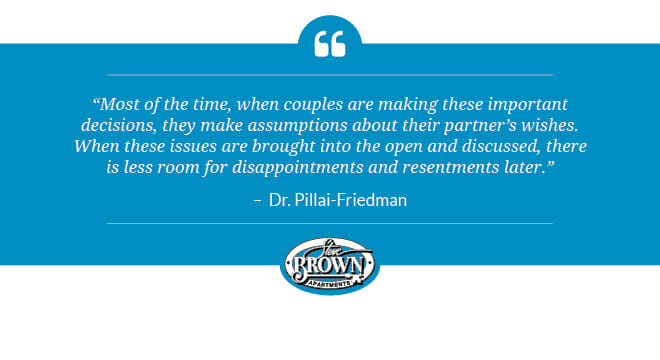 Dr. Pillai-Friedman's point is that what you're going to read in this post should be a topic of serious discussion for you and your significant other. If you bring them into the open and discuss them before you sign that lease, you'll be better off in the long run.
Moving in together before marriage
For couples moving in together for the first time, there is statistical research in this study from the Journal of Marriage and Family that indicates waiting longer to co-habitate will lead to a successful long-term relationship.
As The Atlantic noted in their article on the findings, researchers looked into the correlations between divorce and cohabitation. They found that couples who lived together at an earlier age experienced a higher rate of divorce:
If you're asking "Should I move in with my girlfriend or boyfriend?" This research is answering, "It's up to you, but at least wait until you're at least 23!"
Now every relationship is different; so take those findings with a grain of salt. But that study is worth taking into consideration.
Questions to ask before moving in together
There are definitely some things to discuss before moving in together. In this fantastic piece from Refinery 29 (@refinery29), Nicole Yorio Jurick assembled a slideshow asked a few extremely important questions. Some of the slides that caught our eye include:
What is my gut telling me? Make sure you're confident about living together. It's ok to be a bit nervous, but as therapist Anne Barker notes in the Refinery 29 article, "Far more important is the feeling that you're in it together."
Who's paying for what? Get this out on the table immediately, as a shared space could result in a lot of shared expenses. (More on finances in a bit.)
Do we still do our regular weekend date night? When you live together, you'll be spending a "quantity" of time together, but is it "quality?" You may have to actually plan dates out to make that happen.
Should both of our last names be on the lease? If one person's name is on the lease, then the apartment is only one person's obligation. Think about the ramifications, and check out this great post on Nolo regarding the legal obligations of roommates to each other and to your landlord.
What to do before moving in together
To ensure you have long-term success, there are a number of things you should do before you move in together. These include:
Take a week-long vacation together
Store overnight items at each other's house so living together won't be such a big step
Date for at least six months before you "take the plunge."
This video from Howcast details these and other smart things to do before moving in together.
Moving in checklist: Are you moving in together too soon?
The video in the previous section gave some great tips on answering that questions. Let's put that in checklist format, pulling also from this great post by eHarmony (@eharmony):
__ Make sure you really like each other (date at least six months)
__ Spend a lot of time together on a daily basis
__ Agree on what you want from the relationship
__ Know how to resolve your conflicts (i.e. you've already had an argument and worked it out)
__ Vacation together
__ Realize you're going to have to sacrifice some independence
__ Have compatible lifestyles
__ Communicate openly and honestly
Of all the things to consider before moving in together, it's communication skills that are the most important to a relationship. As that old romantic Dostoyevsky once said:
Moving in together finances: Get everything on the table
We love Moveline's "Ultimate Guide for Couples Moving in Together." They have a great section on having a money talk with your partner, in which you get all the financial facts on the table. Some important items to cover:
Get the big financial picture: Openly discuss your respective credit scores, debts, and assets.
Figure out what's fair: Unless you make the same amount of money, there might be some inequities on how you pay for things. One way to resolve the payment issue to assign a percentage of rent based on each other's income.
Develop a system for shared finances: Along the lines of the last point, you should have a system in place that helps you share the finances when the need arises. Do you have a joint checking account, for example? Here's a video on how to handle it.
Decide how to handle stuff: Another great part about Moveline's Guide is their graphic on how to determine what to keep and what to throw out. Check it out:
Moving in together with kids
If you have a situation where moving in with a significant other will result in a blended family, this post by Terry Gaspard, MSW, LICSW (@movepastdivorce), will give you some things to consider.
As she notes, there are potential risk, including the child may have a negative reaction to multiple caregivers. Here are some recommendations she has to make the transition smooth for the kids (absolutely read her post if you're in this situation:)
Make sure you and your significant other on the same page as far as parenting strategies.
Don't ask your children for permission to co-habitate; this puts excessive pressure on them.
Discuss your expectations for your future as a family with your significant other.
Prepare your children well in advance for the sudden change in routines.
The "Should-We-Move-In-Together" Quiz
We're not sure of the science behind this quiz by Rent.com (@rentdotcom), but it can definitely raise some red flags if you're not a good match.
Pros and cons of moving In together
We've touched on a lot of topics, but if you're sitting down and making a comparison of the pros and cons of living together, here are some top items to consider:
These are entirely subjective, and you could undoubtedly think about them either as positives or negatives. We encourage you to make your own pros and cons list, and weigh the criteria according to your own personal outlook.
Tips for moving in together
Ok, time for some "moving in together" advice. Our living together tips serve as a nice summary from all that you've read to this point.
Communicate clearly and early. Always talk about issues and work through your conflicts.
Set expectations for your relationship. Talk about your relationship and what happens when the lease runs out.
Be clear about cleanliness. Set some ground rules for housekeeping – it's one less stress to get out of the way.
Deal with finances first. Make sure you're clear on how you will co-exist financially.
Get your parenting strategies straight. If you're going to be living together with kids, make sure you're on the same page.
Deal with stuff systematically. Be fair and make compromises when it comes to dealing with your respective decorative items and favorite lounge chairs.
Don't move in for the wrong reasons. Avoid doing this to shed a problematic roommate or save a few bucks. This is a serious step in your relationship: Treat it that way.
Moving in together quotes
Ok, we've got the serious business out of the way. Now let's take a look at some words of wisdom by some of the world's great (and not so great) minds:
Some great thoughts on a great big decision. We hope this post has given you plenty to think about, and allowed you to take an in-depth look before you leap.
It's no guarantee that you'll always live happily ever after, but it will definitely improve your chances of enjoying a 9-12 month lease together. Good luck!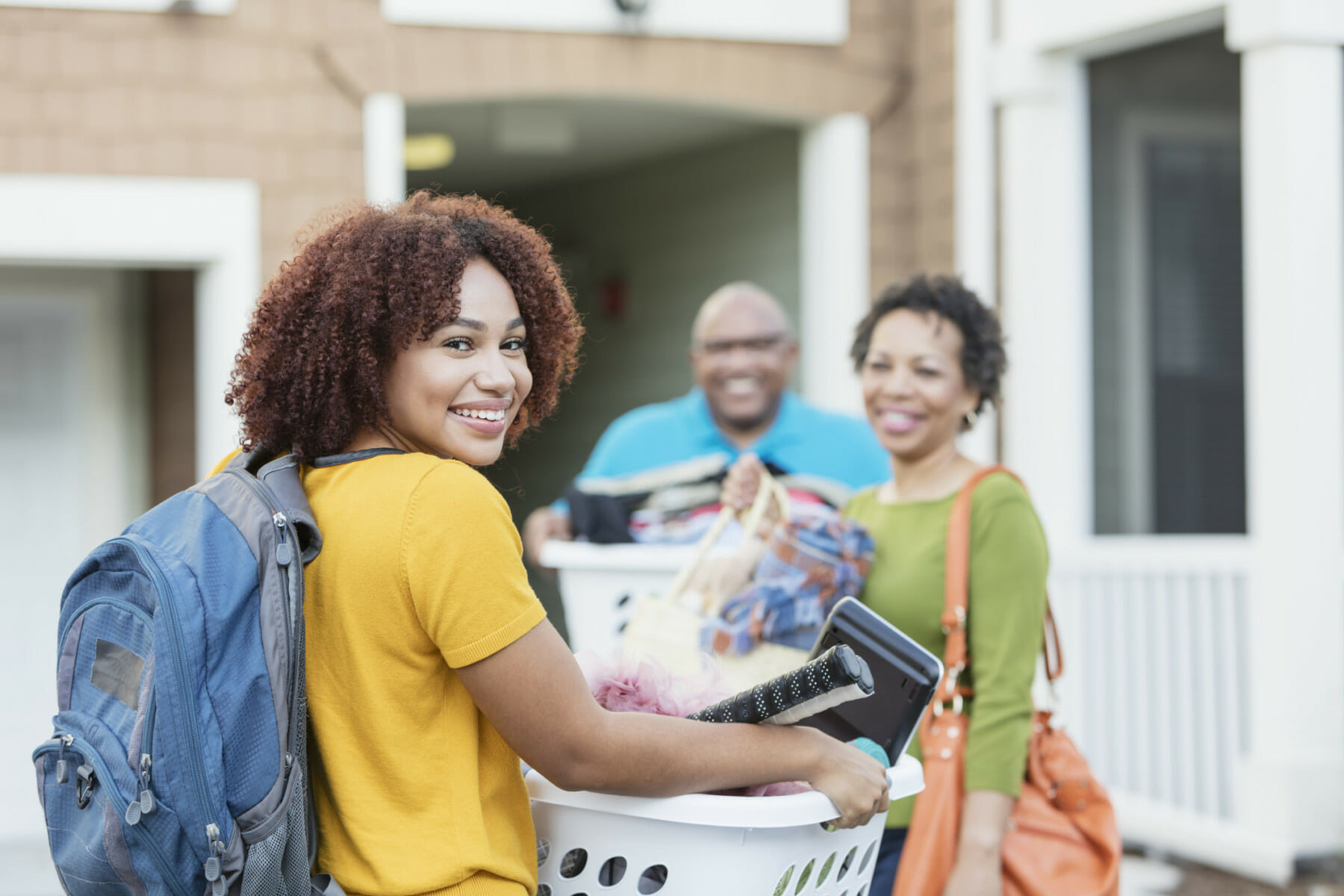 Download our First Time Renters Guide
Everything you need to know when searching for your first apartment.
Get it now
Published on May 04 2016
Last Updated on Aug 26 2022