How to Move Efficiently: A Renter's Guide to Getting Organized and Moving Fast
It's a law of nature: Moving always takes waaay longer than you think. However, if you know how to move efficiently, you can lessen the moving time (and pain) as you transition to a new apartment.
Let's face it: Moving stinks. It doesn't matter if you're a student in the thick of the August 15th craziness, or a professional moving into a new downtown apartment. Moving means upheaval, and that can make for a stressful, exhausting and sometimes emotional experience.
Since no one likes moving, we thought it would be best to streamline the process, and show you how to pack and move efficiently. To help us, we reached out to an expert who has overseen plenty of moves: Tim Lightner, owner of TWO MEN AND A TRUCKⓇ in Madison.
How to move efficiently: Get organized
TWO MEN AND A TRUCKⓇ is a well-known moving company and the Madison franchise has been doing home and business moves for nearly 25 years. This franchise has locations around the world and has performed more than six million moves since the company started 30 years ago. As a result, they've got a few tips about what to do (and what not to do!).
When we asked Tim if there was a "secret sauce" for how to pack and move efficiently, he didn't hesitate with the answer: "The key is being organized," he said. Listen to his explanation in this audio interview, and the read on to find out how it's done.

How to organize a move
The more organized you are, the more efficiently you'll move, which ultimately will help you reduce your moving costs. And getting organized ultimately boils down to two steps:
Step 1: Planning for the move
Step 2: Packing and moving your stuff
There's a very simple way to think about this process. The more time and mental energy you invest in Step 1, the less time and money you'll spend on Step 2.
Step 1: Planning for the move: Who, what, when and where
As you start planning, think about the move in terms of the four Ws: Who, What, When and Where. Each W has questions you'll need to answer to make your move easier.
WHO will move you?
You have a few options to consider. Will you go the DIY route? Or will it be professional movers? Or perhaps maybe you'll choose a hybrid approach, relying on the pros for the heavy stuff while you take the smaller items.
Efficiency Tip: Use professional movers for the heavy items, and move as many of the little items by yourself as possible. If you call in friends, be careful. They're not trained in moving, and they're much more likely to break something than the pros. AND they will likely ask you to return the favor down the road.
WHAT will you be moving?
Is it everything you have, or will you use this chance to get rid of some items? Will some items go to storage? "We've moved people who still have unopened boxes from the last move," Lightner remarks. Does that sound like an efficient move?
Efficiency Tip: Figure out exactly what you need to move before you start packing.
Get rid of as much as possible well before the move. Separate your items into three categories: What can be sold, what should be pitched, and what you'll keep.
WHEN will you move?
You may have the move-in date, but have you thought about when you should start packing? And when should your friends/movers arrive? Work backwards, using the Packing/Moving timeline we've included below.
Efficiency Tip: Pack as much as you can, as early as you can. It never goes as fast as you'd like. So block off a complete weekends well in advance, so you can get done with the bulk of the items.
WHERE will all your moving take place?
You obviously know where you're moving (we hope), but think about the many "wheres" involved in physically moving your things. Where you will be able to park the moving van — in front of the apartment? Down the street? And how far away is your destination?
Think about how many trips you'll need, and how much time that will take you. Find out rules about moving from your apartment managers: Some have time constraints for moving. Others may allow you to use a freight elevator.
Efficiency Tip: Brainstorm ways you can shorten the distance for your movers. For example, reserve a parking space right next to the building. Contact your landlord to reserve elevator space. Move boxes as close to the loading areas as possible.
"People don't think about how many flights of stairs movers will have to climb, or what the parking will be like," Lightner said. It all adds up.
Step 2: Packing and moving your stuff
Now that you've got the logistics of the move squarely planned, let's get down to brass tacks and start packing your stuff. We really like this post from TWO MEN AND A TRUCK that features the following timeline of what to pack one month before you move:
1 month before the move – Get big boxes and start packing the things you won't need until after the move. Purchase packing boxes and supplies, or contact Madison Green Box for re-usable totes. If you are hiring movers or renting a truck, now's the time to contact them.
3 weeks before the move – Box up out-of-season items like coats, boots, and holiday decorations.
2 weeks before the move – Start using small boxes to clear out drawers and closets. If you have pets, make arrangements for them to be safely elsewhere during the move.
1 week before the move – Confirm all your plans with anyone you're depending on like movers, truck rental companies, and your new home.
Week of move – Finish with all clothes and bathrooms, and start cleaning. Be sure to pack up an easy-access box of clothing, your wallet/purse, toiletries, cleaning and food items for the day of the move.
Ideally, you'd like 4 to 6 weeks of lead time before you move. The more time, the better.
With your timeline in hand, now you can start packing. Use these tips to keep things moving smoothly:
Create a naming system for where the boxes will go, and label accordingly (Living room, dining room, etc.) Try not to mix and match items in boxes.

Set up a storage room where you can store items you've packed.

Put larger, lighter items in big boxes, and smaller heavier items in small boxes.

Use sheets and blankets for packing materials. Socks and t-shirts also work well!

Use empty spaces in chests and dresser to pack blankets and sheets you don't use as packing materials.

Remove lampshades, and stack them together so they don't get beat up.

Disassemble all furniture and electronics.

Pack a box with tools and cleaning supplies. You might have to spot clean a certain area, or take a door off the hinges to move couches.

Pack up food. If you have food readily accessible, you don't have to deal with a food order or delivery costs.

Use original boxes/packing whenever possible, especially with fragile items like large-screen TVs and computers.

Pack your remote(s) with your TV. You'll be glad you did.
Now you're ready to move your stuff! Hopefully your up-front planning and packing has paid off. Your items are packed and labeled. Your loading areas are designated, and either you've got friends or professional movers ready to go.
If you've rented a truck, this video that shows how to pack a truck efficiently. Note how they use the area over the cab for long items, then follow it up with stackable boxes. Finally, they fill in gaps with furniture and other boxes, like it's a big puzzle.

The great efficiency dilemma: DIY vs. hiring movers
One of the big questions when it comes to efficiency is the DIY element. Can you go it alone, or do you hire a professional moving company, like Lightner's Two Men and a Truck?
Here are a few issues to keep in mind:
Efficiency isn't only about the duration of the actual move. It's also about the long-term issues involved. What if you have friends move for you, and they break something? That's time spent having to find a replacement. Or what if you throw your back out? Would that cost you time off school or work?
Friends will need to be paid back. It's great to call in friends and family for a moving favor. But your move today will translate into their move tomorrow. So if your time is valuable, just realizing you'll need to help them somewhere down the line.
Your movers should be bonded and insured. If you decide to go with a mover, do they have insurance to cover any items that are broken? Also, if in the rare occasion a mover steals an item, is the company bonded?
Lightner says every situation is different, but if you believe a mover is the most efficient route for you, keep in mind the following:
Moving companies MUST be licensed to call themselves movers, so be careful who you allow into your home. Even among licensed movers, companies vary widely in terms of quality, trustworthiness and services. Do your homework before hiring, and remember you get what you pay for.

Be very cautious of "movers" found on Craigslist. Research to make sure whomever you use is insured, bonded, does background checks and drug testing for their team, doesn't have outstanding legal action pending, and is a professional organization with solid reviews. "We hear stories about low price, unlicensed guys who quote low but then double the actual price once they start the move," says Lightner. "Or worse. Be very careful."

Efficient moving: Get organized and get started NOW
We've given you a wide range of moving hacks. Once again, we have to echo Lightner's advice. All the efficient moving tips in the world won't matter unless you're organized first and foremost.
So get organized and get started TODAY. Remember, the more time you spend upfront on organization, the less money you'll spend on moving.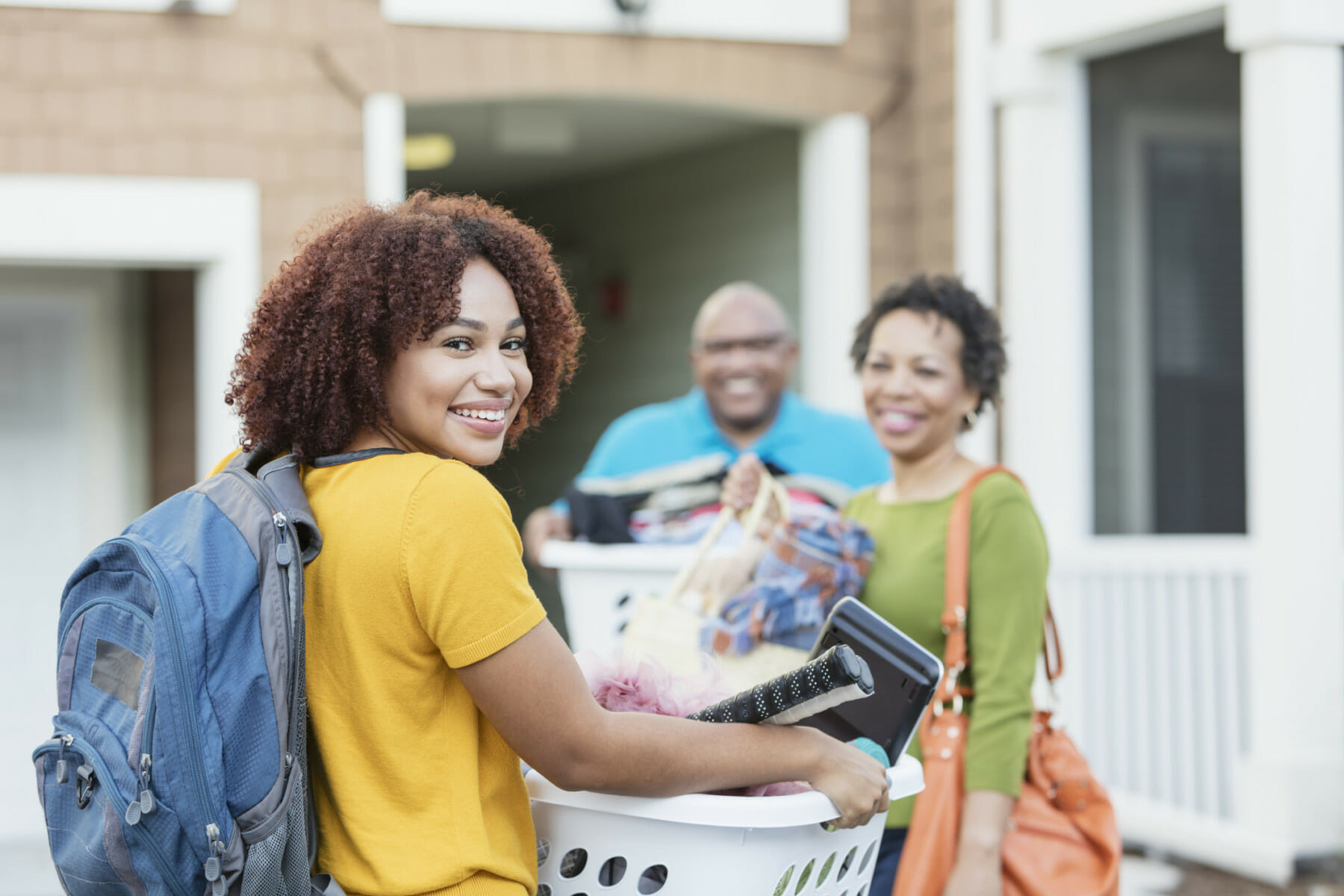 Download our First Time Renters Guide
Everything you need to know when searching for your first apartment.
Get it now
Published on Jun 28 2017
Last Updated on Apr 10 2023
Categories: Moving