A Moving-Out Guide for Hazardous Waste Disposal in Madison, WI
When it's time to move, it's also time to throw some items out. But what do you do with items like paints, pesticides, medications, and fluorescent bulbs? This guest post lists out the places renters should go for hazardous waste disposal in Madison, WI.
Your lease is up, you're all packed, and you're doing a final sweep of your apartment before moving out– now what to do with that leftover junk? It might be tempting to just trash everything you're not taking to your next place, but not everything should go to the curb.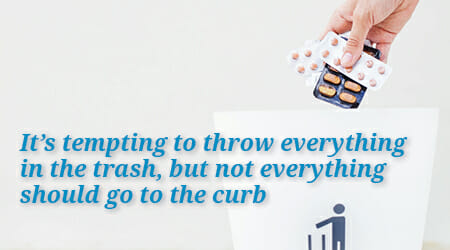 Some household items, like mercury-containing devices, paint, pesticides, old medications and more can be hazardous to public health or the environment, so they should not go into the regular trash or down the drain. Fortunately, there are several sites in the area for you to safely get rid of those items, listed below.
This guide applies to City of Madison residents, so if you live elsewhere, check your municipality's website for waste disposal guidelines.
Household Hazardous Waste
(Examples: paint,pesticides, mercury-containing devices, gasoline, flammable materials, aerosols, organic solvents)
Bring to Dane County Clean Sweep at the Dane County Landfill, 7102 US Hwy 12, Madison, WI 53718.
Visit www.danecountycleansweep.com for a list of accepted materials.
Tip: There's a $10 fee per trip, per household, so consolidate with your roommates before bringing a load to the site.
Batteries
Single-use household batteries can be taken in small quantities to a drop-off site, which are listed at www.cityofmadison.com/streets/recycling/batteries.cfm.
Light Bulbs
Bring dead compact fluorescent light bulbs (CFLs) to one of several locations throughout Dane County, listed here: www.countyofdane.com/pwht/recycle/lamps_bulbs.aspx.
Note: These bulbs contain small amounts of mercury, so if a bulb breaks, don't throw it in the trash. Instead, follow EPA's directions for cleaning up a broken bulb (www.epa.gov/cfl) and bring it to Dane County Clean Sweep.
Microwaves, Dehumidifiers, Other Appliances
Check the City of Madison Refuse site for details. Depending on the type and state of the appliance, you can:
Medications
Take your unused medications (prescription and non-prescription) in a sealed plastic bag to a MedDrop location, listed at https://safercommunity.net/meddrop/.
On campus, the closest location is the UW Police Department, 1429 Monroe St.
Rags, Paper Towels, Disinfecting Wipes
Remember that the toilet is not a trash can! These materials can clog pipes and cause sewer backups, so as you're cleaning your apartment, place them in the regular trash.
Something not on this list?
Visit City of Madison's Refuse site at www.cityofmadison.com/streets/refuse for detailed guidelines. You can also download the My Waste app to your smartphone or tablet for waste disposal information.
You can also check out the City of Madison's Recyclopedia for a more detailed list of how to dispose of various wastes.
This guest post is from:
Published on Aug 09 2017
Last Updated on Apr 10 2023
Categories: Moving