Wisconsin Renters Insurance: How it Can Help You Avoid an $85,000 Mistake
Insurance is for homeowners, right? Wrong! Renters rarely think about insurance, but they should. Learn all about Wisconsin renters insurance, including how inexpensive it actually is, and how costly ($85,000) it was to one renter who didn't have it.
Steve Brown Apartments is not an insurance company, but we do require our renters to have renters insurance. Why? Because it makes so much sense, and it's inexpensive insurance. It could also really help you if you're in a jam.
Here's a quick story of a guy who wished he would have bought it.
85,000 Reasons Why Renters Insurance is a Good Idea
It was Halloween of 2009, and a resident in our Lucky Apartment building thought it would be a spooky prank to hang a Halloween costume from a sprinkler head.
As he was fiddling around with the decoration, he accidentally set off the sprinkler, releasing a proverbial monsoon from up above. Water made its way downward through the floorboards and bathroom vents, leaving nearly six inches of standing water on the five floors below.
The end result: Flooding had damaged 16 units, totaling about $85,000 in damages – and he was liable for all of it.
That's right. Property owners carry insurance on their buildings, but that insurance won't provide coverage for damages that occur from the actions of a renter, including personal property damage.
What is renters insurance and how does it protect you?
Renters insurance is an insurance policy that's similar to homeowners insurance, in that it can cover your belongings and provide a degree of liability coverage.
The reason you need it is because landlord insurance doesn't cover your personal items, as our friend in Lucky discovered. You're on the hook for damage from a fire or theft (as well as damage you do to other people's stuff and the building, like our friend above).
Here are seven ways renters insurance can protect you:
1. Covers lawsuits from fellow residents and a landlord
If someone gets hurt due to your negligence, you are liable to be sued by another renter. Your property owner may also be forced to sue you to cover claims against them, or to collect reimbursement for money they paid upfront as a result of your actions. Renters insurance can protect you.
2. Negotiate and pay settlements to other parties
Insurance can cover all negotiations and settlements. If an action leads to any legal issues, it'll be quite the relief to have these things covered.
3. Reimburses you for your own property losses
In the midst of a fiasco such as the one we described earlier, it can be easy to forget about your own stuff. Renters insurance can cover you there, too.
4. Reimburses you for other people's negligence
If someone else causes damage to your belongings, you're covered. For example, if someone causes a fire in the basement, and your items in a storage locker go up in flames, then you're covered.
5. Covers temporary living expenses
If an incident makes your apartment uninhabitable, renters insurance can cover your living expenses as you search for a new place.
6. Provides you with liability coverage
If your cat claws someone up or your dog bites someone, renters insurance can cover any resulting physical or psychological injuries.
7. Protects you from thieves
Renters insurance can cover the replacement costs of any stolen items should you get robbed – even if the theft occurred outside of your apartment, like having your iPhone lifted or having your bike stolen.
Renters insurance rates: How much does renters insurance cost?
One of the best things about renters insurance – and one of the reasons we feel comfortable requiring it – is that it is very affordably priced.
Of course, premiums vary based on your credit history, how much you choose for a deductible, and the amount of coverage you want. But most policies cost between $100 and $200 per year and are paid monthly – which equals $8 to $16 per month.
How much your coverage will cost hinges on three factors:
1. The value of your personal property
2. How much liability you're willing to risk
3. The building you live in
How much renters insurance coverage do you need?
To shed some light on how much renters insurance coverage you need, we reached out to two experts in the field, Penny Gusner, a Consumer Analyst for Insure.com and Insurance.com, and Ron Von Haden, Executive Director of Professional Insurance Agents of Wisconsin.
1. Replacing your possessions
The main factor you should consider in buying renters insurance is the "actual value" of your possessions. A good way to consider which items to include in that assessment is to take a look at your stuff, and think about what you'd do if it were gone tomorrow. You'll need to consider two items:
1. Actual cash value: This is calculated by determining the replacement cost of the property, and then subtracting the amount of depreciation that has taken place. A brand new $500 couch may have a lifespan of 20 years, so if it's destroyed in a fire in 10 years, it's worth $250.
2. Replacement cost coverage: This type of coverage provides replacement coverage without any deduction for depreciation.
Typically, the more expensive items you have, the more coverage you'll naturally need. Don't worry about the overall value of your goods being too high though. Generally, an additional $10,000 of coverage will only increase your rate by a few dollars per year.
PRO TIP: Penny Gusner
"I advise you choose replacement value if you can afford it because although it does cost more than actual cash value the extra coverage you get is worth it. For instance, if your 10-year-old TV is destroyed with replacement value you'd get a brand new TV that is the same or similar to what you lost. With actual cash value, you would only receive compensation in the amount that your 10-year-old TV was worth, which is unlikely to cover replacing it."
2. Protecting yourself with liability coverage
The other side of renters insurance involves liability. Remember, you're held accountable for damages, injuries to others, and legal fees when attorneys try to get as much money from you as they can.
At Steve Brown Apartments, we require at least $100,000 of personal liability coverage and proof of insurance within 7 days of any lease start date. In most cases, minimum coverage will meet both of these criteria.
PRO TIP: Ron Von Haden
"A basic policy may cover $25,000 of liability – that's way too low. It won't cover much. We've seen people leave hot coals on a grill and it's burned the building down. The renter in that case will be held responsible, and that $25,000 wouldn't cover much."
3. Additional coverage
Many renters have expensive items, which can include boats, cars, jewelry, etc. Talk to your agent about potentially covering these outside the basic policy.
PRO TIP: Ron Von Haden
"If you have a bass boat that's sitting in a parking stall, it won't be covered by your renters insurance. You can put those items on what's called an 'inland marine schedule.' If your agent suggests this to you, it's not because he or she is trying to sell you more insurance. It's because they're trying to protect all your belongings."
With renters insurance for apartments, the type of apartment matters
The type of apartment you live in can also impact your renters insurance cost. Costs will vary based on the building's:
Fire resistance

Fire protection rating

Size (four or fewer apartments are less likely to have a fire)

Type of building

Location

Current insurance policy
The rates will vary, so be sure to check with your agent.
Important things to remember when shopping for a policy
Does your renters insurance cover theft?
It's essential to be protected from theft, especially in a city. There are a fair number of people with sticky fingers around downtown Madison. Are you covered if someone takes your goods?
Compare renters insurance by shopping around
You'll find different companies offering different rates, claims service and coverage. Be sure to ask questions as you shop around.
Get quotes from referral sources or shop online
It's always good to get a quote from an agent or company that someone has had a good experience with, but don't hesitate to also look online for quotes.
Always ask for discounts
Insurance companies typically give discounts if you carry multiple policies with them. If you have auto insurance, for example, you might be able to get a discount on renters insurance.
Start an inventory list TODAY
You should always have a list of all of your personal property — you may want to add in pictures or videos. It's smart to store that list off-premises or in the cloud. You may want to include serial numbers if you have them.
This is definitely something both of our experts agree upon:
PRO TIP: Penny Gusner
"People's biggest mistakes are not taking an inventory of their belongings to determine how much coverage they need."
PRO TIP: Ron Von Haden
"Do you know how many forks and knives you have in your drawers? How many shirts are in your closet? Do a video inventory with your phone. If you don't have that, it will be difficult to get paid the amount you think you should be paid."
The higher the deductible, the lower the premium
If you want a lower premium, opt for a higher deductible. Just be sure you can afford to pay that deductible if you have to make a claim!
Why Steve Brown Apartments requires renters insurance
Many property owners are starting to require every resident to carry renters insurance. At Steve Brown Apartments we see at least one resident a year suddenly owing tens of thousands of dollars due to one silly accident. That's why in 2012 we followed suit and started requiring renters insurance coverage in our leases. We want to make sure all of our residents are protected.
Renters insurance is one of those things you hope to never use, but you'll be happy you have it should you need it. Believe us, it's worth the minimal cost to have peace of mind knowing you're fully covered in the event of a fire, theft or flood. $85,000 (or more) is a steep price to pay.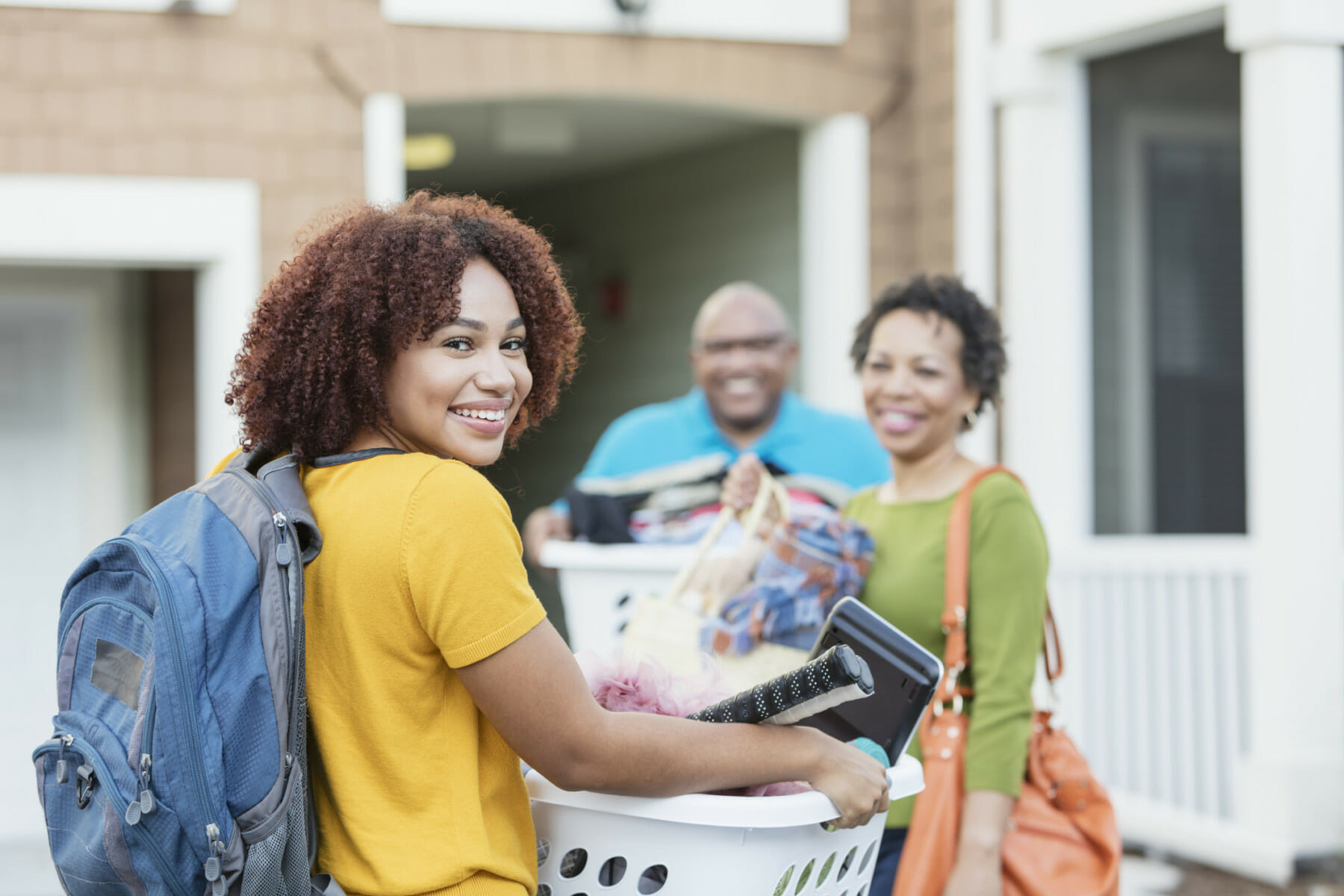 Download our First Time Renters Guide
Everything you need to know when searching for your first apartment.
Get it now
Published on Feb 26 2018
Last Updated on Aug 26 2022