How to Find a Roommate Who's Right for You
Whether you're looking to share an apartment or move into a dorm, you need to know how to find a roommate. There are a number of online tools and apps to make the task easier, but you must also ask the right personality-based questions to help you choose correctly.
As a property management company that's been in business for over thirty-five years, we've seen our fair share of roommate problems. We know that anyone can generate a list of potential roommates.
The key to success is beyond finding someone who pays rent on time. It's about personality, lifestyle and most importantly, resolving conflict. In this post, we'll provide you with some tactics to help you find the right roommate for you.
How to find a good roommate (no, how about great?)
As we mentioned, we're going to get into tactics in just a bit, but the most important thing you should know is that finding a good roommate isn't about getting lined up with a person who shares your tastes, or has similar friends.
When you can resolve a conflict amicably, that's when you have a good roommate.
Resolving conflict requires understanding a person's conflict resolution style, and then deciding how to resolve an issue that works with both of your styles. Here's an example:

Finding a roommate for an apartment vs. college is different
Finding a roommate for an apartment will be different than finding one for a college dorm.
With a college dorm roommate, you're typically at the mercy of the college if you're living on campus. A random roommate will likely be assigned to you, or, if you get lucky the college will provide an option for you to self-select your roommate using a matching app or similar service.
An apartment roommate after college is different. Unless an apartment rental company has a roommate matching service, you'll likely be on your own. So that requires some different tactics on your part.
Communication
Before we get into the tactics for finding a roommate, here are some critical communication tips you'll be using throughout the process:
1. Share details
Be sure you share as many details about yourself as possible. If you're the owner of the apartment, be specific about the size, pets and costs. Let them know your work schedule and your lifestyle. The more transparent and authentic you are, the easier it will be.
2. Watch out for scammers
As people communicate with you, take a close look at what they're writing and saying. Are they using good grammar in their ads or emails? Do they seem legit? Are they willing to share references? There are a lot of scammers out there, especially online.
3. Be specific in your roommate requests
What type of roommate are you looking for? Maybe more importantly, you have to communicate what you DON'T want. Partiers? Video-gamers? Men? Women? Cats? Dogs? The more specific you are, the more prequalified your potential roommate pool will be.
4. Communicate legal aspects of the deal in writing
Any specific arrangements you've set up between roommates should be set in writing. For example, if you're splitting rent in a particular way, write up the details and get both parties to sign.
You don't necessarily need a lawyer for this, but it helps to get agreements set in stone. That will save considerable angst down the road.
Tactics
How to find a roommate fast: Property Management Matching Service
We're going to share some DIY tips, but the fastest and easiest method is to use your property manager's roommate matching service.
The good ones will have one, and they'll typically be able to match you with people living directly in one of the apartment buildings you want. This may even be one of the value-added features that helps you choose between property managers.
Note: We said this is the fastest, but the effectiveness of the matching service will depend on the quality of the property management team.
How to find a roommate online
There are a variety of online and smartphone options that you can use to find a roommate. Here are some of the top choices, with helpful hints. Be sure to use the communication tips above when creating the ads for a roommate.
Craigslist
Craigslist is a highly valued service for renting properties. We've shared some techniques for how people to can use this resource to sublet an apartment. It also works for finding roommates. Here's how to use it.
First, create an account in Craigslist. From the screen below, select "my account." Follow the steps from there.
Next, you're going to create an ad. Go back to the home screen, make sure your city is selected, and click on "post to classifieds."
Select "housing wanted."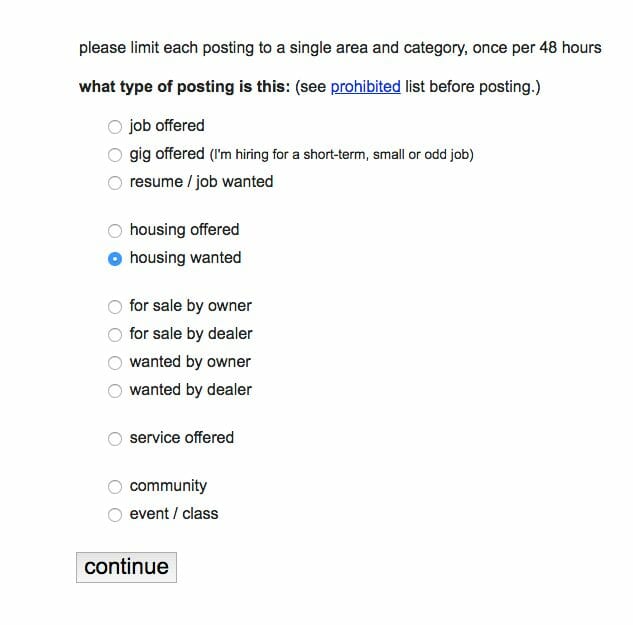 Then "room/share wanted."
Write the body of the ad. Use the communication tips above to create a very specific ad. Once your ad is completed, the next screen allows you to upload photos of the place.

PRO TIP: Using your real address and phone number. When you create an account in Craigslist, your actual email won't be used. The communication through Craigslist remains anonymous, until you decide to communicate directly with a prospective roommate.
You can share your phone number with top prospects (we wouldn't suggest putting it in the ad). However, you can use Google Voice to get a free phone number and use it (you can forward it to your phone.)
Facebook
Facebook has one distinct advantage over Craigslist – you can match a name to a face. You also can leverage your own network of friends and family to ensure that face is a familiar one.
Here are a few Facebook tactics to pursue:
Create a post that you're looking for a roommate
If you're new to Facebook, here is a quick overview on how to post to Facebook. (As almost the entire universe as a Facebook account, we won't go into details here.)
When you create your post, follow the same communication tips we've mentioned earlier. Include details like the amount of rent you're willing to pay, where you want to live, and a few details about yourself.
Then tag friends you know who live in the area, and ask people to share with connections who are close by.
PRO TIP: Use video in your post. Show the space, and give some details about yourself. Facebook Live is a great way to get visible.
You can also do a search on Facebook and look for roommates. Here's an example:
Check out housing groups.
In larger cities, Facebook has housing groups dedicated to finding roommates. We manage one right here in Madison! You can also check out this group.
Reddit
Go to reddit roommates (https://www.reddit.com/r/redditroommates/).
Create an account with Reddit. Make an intro post, as indicated in the "READ THIS POSTING" you'll see when you first visit r/redditroommates.
Next, subscribe to the string in the box on the right-hand side toolbar.
Then write the ad, once again using the communications language listed above.
Roommate-finding websites and apps
We gave you three of the biggest sites out there for finding roommates. There are also a number of other websites and apps designed specifically for your roomie quest. These include:
Roomiematch.com – Real live people curate the roommate matching to sift out the spam. Free and paid membership.
Roommates.com – Allows for free profiles, but you have to pay to read messages from others.
Roomi – Another curated site that screens the listings for you.
How to find a roommate safely
What's most important in all of these methods is that you conduct your roommate search in a safe manner. Here are some good ideas to ensure you're choosing wisely:
Run a credit and background check first. This is a great way to uncover anything people might be hiding. You can also tell if someone will be able to pay their fair share of the rent. Click here to run a credit check and run a background check through WCCA.
Check references. No, it's not a job application. But you can still ask for references. If they don't provide any, that tells you something.
Have a friend present when you meet. Choose a neutral, public site for your first meeting, and be sure to bring a friend. Do not meet a person in your apartment alone until you feel completely confident in them.
What questions should you ask to determine if you have a good roommate match?
Now that you have a list of candidates, it's time to interview them. Here is a set of open-ended questions. The idea behind these is to get a sense of how a potential roommate's lifestyle, and how they would deal with conflict.
Where do you expect to do most of your studying?

When do you expect to do most of your studying?

Does low background noise or light music bother you while you're studying?

Do you smoke?

What time do you usually go to bed?

What time do you usually wake up?

Which word best describes your personality?

Which word best describes your housekeeping style?

Which best describes your preferred living environment?

How do you feel about overnight guests?

How do you feel about alcohol use?

How much do you think you'll be home?

How important is private time?

How involved do you plan to be with Greek organizations?

Are you a UW athlete?
Top qualities you'll want to look for in a roommate
If you take a look at the top problems experienced by roommates, you'll see the positive traits that make for a positive roommate experience. Look for these qualities in a roommate:
Self-knowledge (conflict resolution)

Reliable

Trustworthy

Respectful of privacy

Clean, organized

Agreeable

Sense of humor
Can you find a perfect roommate?
Nothing is perfect in this life. But you can make some moves to ensure your roommate situation is functional, not dysfunctional. Find these tips to not only find a roommate, but also to make sure it's the right one.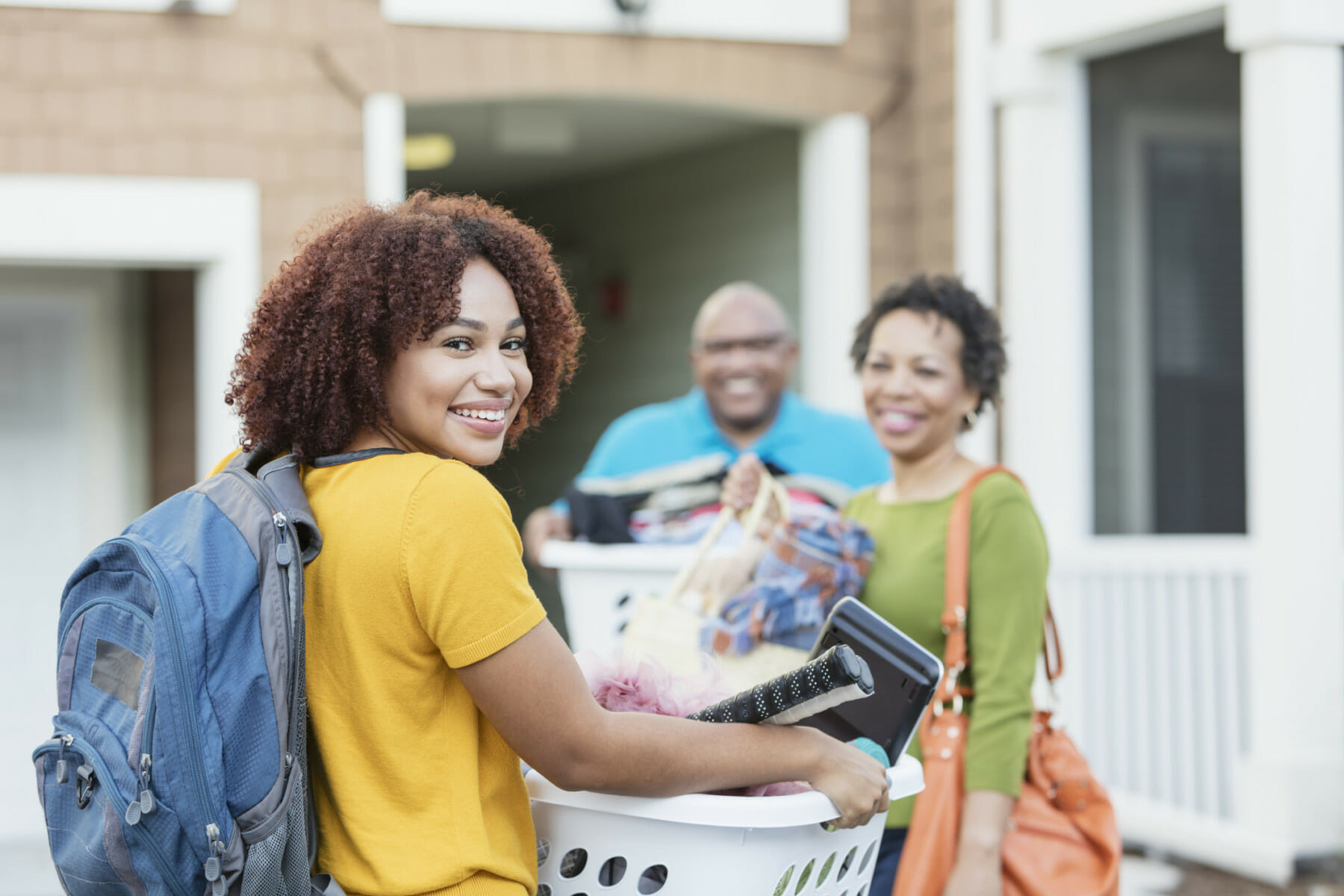 Download our First Time Renters Guide
Everything you need to know when searching for your first apartment.
Get it now