A Treasure Hunter's Guide to Thrift Stores in Madison, WI
Unless your decorating style is minimalist, there's a good chance you have a few treasures in your home that didn't come from a big box store or your relatives.
Thrifting for home decorating items and furniture is often relegated to first apartments or low-income living, but the items you can find at thrift and second-hand stores are often unique, sometimes valuable, and usually spark some serious Marie Kondo joy.
Case in point – here are "15 of the Luckiest People Who Found the Best Things in Thrift Stores".
Since Madison is a larger city, stores can be hit or miss for thrifting. It helps if you know where to look and if you broaden your footprint – my top three favorite "Madison" stops are actually in Monona! You'll also want to expand your options beyond St. Vinny's and Goodwill, which are frequented more often and usually get picked over quickly for home goods.
I'm a former online vintage shop seller who still hunts for thrift store treasures on the regular. The locations I've shared here are my favorites. If you go, leave any Irmi Nursery Originals you find for me. They're my favorite.
My Favorite Thrift Stores in Madison, WI
The Cozy Home
The Cozy Home is my number one go-to shop for decorative thrifting. The inventory is constantly changing, prices are reasonable, and the people who run it are really nice! They have a nice variety of furniture in many different styles and sizes. You'll also find accessories (vintage and current), some antiques, and a dash of kitsch. When you go, make a couple of loops around the store and look high and low. They do a great job with their displays, but it's still hard to see everything at once!
Touch of Pride Sales
Their retail location is three stories, each floor is filled with items from local estates. ToPS is not a retailer, but rather an estate sale service who will pack up the contents of a home and bring it back to their store. They sell everything from a full dining room set to a half-used bottle of lotion! I usually stop here to see what vintage kitchen ware is available – I frequently find Pyrex and milk glass (another favorite). The upstairs is home to living and bedroom furniture, the main floor has dining furniture and fancy dining ware, and the basement is where they keep day-to-day household items.
Agrace Thrift Store
Agrace.org
Madison West: 118 Junction Road | Madison, WI
Madison East: 2402 E. Springs Drive | Madison, WI
Agrace Thrift Stores are the stores I frequent most often. They have convenient locations in major shopping districts and are an easy in and out. The stores are a bit smaller than the others listed here, but they're clean and well organized. I also find that inventory changes over frequently – it never feels like the same store twice. You can find higher-end furniture and decorative items, but they also have enough household miscellany to keep you browsing if you have time to spare!
UW Swap
swap.wisc.edu
1061 Thousand Oaks Trail | Verona, WI
SWAP (Surplus With a Purpose) resells office supplies and equipment from UW-Madison, Wisconsin State Agencies, and municipalities. They have a giant warehouse at the edge of Verona that's filled with cabinets, tables, desks, chairs, mini-fridges, and more. I've seen them advertise amazing wall maps, vintage globes, and coveted 1960's wood desk chairs. Prices can be a little high, but their items are very unique. SWAP is also one of the few places that has industrial-style furnishings, which can be hard to find in Madison.
Retro Revolution
Prepare your senses to be overwhelmed! The inventory at Retro Revolution has been finely curated and focuses on mid-century glassware, barware, ephemera, and furnishings. If you're looking to create a retro themed man-cave, this is the place to shop. The store is eclectic, filled with color, and is a hipster's dream come true. Plus, the owners are really nice, and it feels good to support them. If your heart desires something unique or bold, you'll find it here. Plan for extra time to shop here, the inventory is very well organized, but there's a lot to see.
Habitat ReStore of Dane County
HabitatDane.org
West: 5906 Odana Road | Madison, WI
East: 4207 Monona Drive| Monona, WI
Habitat ReStore is stocked with donations from home owners, tradespeople, and retailers. You'll find furniture, accessories, appliances, and building supplies like cabinets, paint, light fixtures, and trim. If you're a decorator who is also a DIY'er, this might be the right resale shop for you. You never know what you'll find so make sure to review your DIY Pinterest board before you go!
Hello Art Hatchery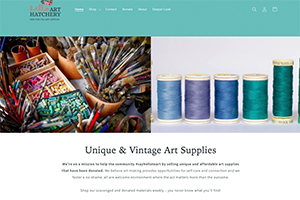 Hello Art Hatchery has tons of art supplies that you can use to spruce up a craft room or studio space. If you're an artist or crafter who wants unique supplies at reasonable prices, this is your place! The inventory changes all of the time, and they take in donations of items to sell so you can donate and shop in one place.
What did I miss?
I'd love to hear if you have any favorite haunts that I failed to mention. Drop them in the comments below. I'd also encourage treasure hunters to consider seeking out estate sales (use EstateSales.net), auctions (Dorshorst in Deerfield does a great job), and flea markets that specialize in antiques (the best one in our area is in Elkhorn).
Happy treasure hunting!
---
About the Author:

Jenny Oppriecht is the marketing director for Steve Brown Apartments. you can Connect with her on LinkedIn or by email.
Published on Feb 08 2019
Last Updated on Apr 10 2023
Categories: Madison List